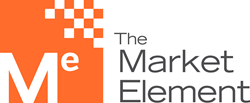 Forging this alliance with Designing Gig represents a pivotal moment for our company. Now we can extend a comprehensive, end-to-end, digital solution for our clients, which now includes creative, design, development, strategy, and execution
Louisville, CO (PRWEB) March 26, 2015
The Market Element LLC, a leading inbound marketing consulting agency has formed a strategic alliance with Designing Gig LLC to provide website design, development, and creative services to their clients.
"Forging this alliance with Designing Gig represents a pivotal moment for our company. Now we can extend a comprehensive, end-to-end, digital solution for our clients, which now includes creative, design, development, strategy, and execution," said Chuck Miller, president of The Market Element. "For small and mid-sized companies needing an array of digital marketing services, they can now consider The Market Element as their 'one-stop shop' for all their creative and/or strategic needs".
"Joining forces makes perfect sense, with our creative design capabilities and The Market Element's strategic marketing acumen, we can deliver a very effective, holistic marketing solution for our clients, that drives brand awareness and ultimately lead generation", said Kristina Celin, CEO at Designing Gig.
As a result of this strategic alliance, The Market Element will now be positioning itself as a full service digital marketing agency, specializing in small and mid-sized companies, servicing clients both locally as well as nationally. The Market Element is also expanding its professional consulting service offering by building out its capabilities in pricing, conjoint analysis and market research.
Learn more about The Market Element service offering by visiting us at http://www.themarketelement.com.
About The Market Element LLC
The Market Element (http://www.themarketelement.com) specializes in practical, cost effective, and proven inbound digital marketing strategies and techniques for small and midsize businesses. The Market Element will help you make the most of your marketing resources, increase lead generation, and drive measurable results for your business. Specialties include, digital marketing consulting, social media management, content generation, marketing automation management, SEO/SEM, email marketing, and website optimization. The Market Element has offices in Louisville, CO and Katy, TX., and has been a certified HubSpot partner since 2013.
About Designing Gig LLC
Designing Gig (http://www.designinggig.com) implements tried-and-true design and user experience strategies to help businesses get more visits, leads and sales out of their websites. Since 2009, Designing Gig has been working with companies who recognize the importance of an impressive web presence and leveraging it as a key part of their marketing strategy. Designing Gig specializes in custom website design and development, advanced programming solutions, branding, logo design, digital graphics and printed marketing collateral. Designing Gig is based in Denver, CO and serves businesses from coast to coast.