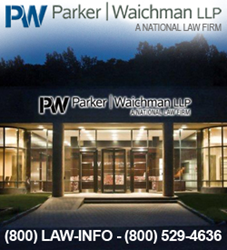 We want to ensure that consumers are aware of this recall
Port Washington, NY (PRWEB) April 03, 2015
Parker Waichman LLP, a national law firm dedicated to protecting the rights of victims injured by defective drugs and medical devices, comments on a recall involving Zimmer's Persona Trabecular Metal Tibial Plate/ Persona TM Tibia. According to a notification posted on the U.S. Food and Drug Administration's (FDA's) website on March 12, 2015, the knee implant component was voluntarily recalled due to reports of radiolucent lines and loosening. A Class 2 recall designation indicates that exposure to the recalled product "may cause temporary or medically reversible adverse health consequences or where the probability of serious adverse health consequences is remote," according to the notification, which also indicates that all lots and sizes are affected and over 11,000 Persona tibia devices are on the market.
Parker Waichman continues to represent individuals who have reported injuries associated with Zimmer knee replacement devices and has assigned staff to work on cases involving the Zimmer Persona Trabecular Metal Tibial Plate/Persona TM Tibia. The firm is concerned whether Zimmer sufficiently tested this device in clinical trials intends to do whatever investigation is necessary in order to find recourse for those individuals injured by this product.
"It is clear to us from this recall designation that federal regulators agree that another metal orthopedic joint replacement device is defective; this time, the Zimmer's Persona Trabecular Metal Tibial Plate/ Persona TM Tibia," said Gary Falkowitz, Managing Attorney at Parker Waichman. When medical devices are recalled, the action typically involves concerns regarding potentially significant injury and the need for revision surgery, according to Parker Waichman. Recalls associated with product defects also help to strengthen patient claims of personal injury associated with that product.
Parker Waichman notes that, based on research conducted as part of its experience regarding metal orthopedic medical devices, such as the recalled Zimmer device, not all medical devices are required to undergo human clinical trials and formal safety and efficacy reviews if the device is deemed sufficiently similar to an approved device. The expedited federal process is known as the 510(k) process. In some cases, the FDA chooses to recall a device based upon the dangers associated with that device. Often, dangers associated with a medical device can lead to an increased likelihood for revision surgery to remove the defective medical device, notes Parker Waichman.
Medical device revision often involves multiple surgeries and is considered costlier and riskier than original implant surgery; patients are often not returned to their pre-implant condition and the recovery process is typically significantly longer.
According to Parker Waichman LLP, news of the recall could trigger inquiries to the firm regarding personal injury claims involving Zimmer knee devices. "We want to ensure that consumers are aware of this recall," said Mr. Falkowitz. "Some affected patients may not realize that their knee implant has a faulty component that may contribute to an injury or complication."
When devices are recalled due to issues involving defects, patients seek compensation for increased medical expenses, time away from their careers and families, pain and suffering, and future medical care and financial loss. Recalls have the ability to strengthen a patient's claims.
Parker Waichman LLP has investigated thousands of cases alleging injuries from defective medical devices, including Zimmer knee implants. The firm has also filed lawsuits on behalf of individuals who suffered injuries allegedly due to the Zimmer NexGen knee device. The litigation is In Re: Zimmer NexGen Knee Implant Products Liability Litigation (MDL No. 2272).
Parker Waichman LLP continues to offer free legal consultations to victims of alleged Zimmer Persona Trabecular Metal Tibial Plate/Persona TM Tibia knee implant failures. If you or a loved experienced complications, including loosening or premature implant failure, following total knee replacement with a Zimmer Persona Knee replacement component, please contact the firm by visiting its Zimmer Persona Trabecular Tibial Metal Knee Implant page at yourlawyer.com. Free case evaluations are also available by calling 1 800 LAW INFO (1-800-529-4636).