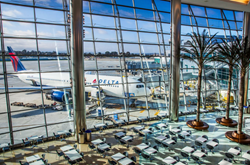 We are proud of our ongoing relationship with the San Diego County Regional Airport Authority and our project partners who worked diligently to bring this award-winning facility to travelers
KANSAS CITY, Mo. (PRWEB) March 25, 2015
The San Diego International Airport Terminal 2 Building and Airside Expansion Project, designed by HNTB Corporation, has been named as Best of the Best Projects winner for 2014 by Engineering News-Record, an industry-leading publication that reports on design and construction. The airport took top national honors in the Airport/Transit category.
HNTB provided the initial planning, lead architectural and engineering services for the 460,000-square-foot expansion – branded as The Green Build – adding or renovating a total of 20 gates and designing the airport's new retail and food atrium, among many other interior enhancements. A related airside expansion included 1.3 million square feet of new aircraft apron and taxiway areas.
The largest improvement project in the airport's history, the Green Build terminal expansion also has been awarded Leadership in Energy and Environmental Design Platinum certification from the U.S. Green Building Council, making it the world's first commercial airport terminal to earn the highest LEED certification available for sustainable construction.
"We are proud of our ongoing relationship with the San Diego County Regional Airport Authority and our project partners who worked diligently to bring this award-winning facility to travelers," said Laddie Irion, HNTB senior vice president and national aviation market sector leader. "Receiving this prestigious award from ENR is an honor, and HNTB continues to be committed to setting the industry standard for innovative airport design and sustainable construction."
The terminal has earned more than 40 top awards from industry groups, including the Airport Consultants Council, Airport Minority Advisory Council, Federal Aviation Administration, Public Relations Society of America, Airports Council International, Design-Build Institute of America, California Transportation Foundation and the American Planning Association.
According to the publication's website, the announcement of ENR's national Best of the Best Projects winners culminated a seven-month effort to identify "the pinnacle of design and construction achievement" in the United States among projects completed between June 2013 and June 2014. There were approximately 700 entries for the 10 regional Best Projects competitions, with top winners in each category from each region moving on to the national competition. The entries were judged in terms of teamwork, safety, overcoming challenges, innovation and quality. This year, for the first time, the winning project teams will be honored at an awards banquet in New York on April 17, in conjunction with ENR's 50th Annual Award of Excellence Celebration.
"HNTB's aviation contributions can be seen among some of the most complex and visible projects in California, including the Tom Bradley International Terminal, Bradley West Modernization at Los Angeles International Airport; San Francisco International Airport Air Traffic Control Tower design; and the Van Nuys Airport Runway 16R Rehabilitation project," said Chris Peters, HNTB president, West Division.
About HNTB
HNTB Corporation is an employee-owned infrastructure solutions firm serving public and private owners and contractors. With more than a century of service, HNTB understands the life cycle of infrastructure and addresses clients' most complex technical, financial and operational challenges. Professionals nationwide deliver a full range of infrastructure-related services, including award-winning planning, design, program management and construction management. For more information, visit http://www.hntb.com.