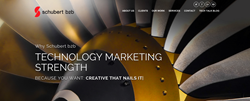 Our new Schubert b2b website shows tech companies how to weigh anchor and power their ship ahead.
Downingtown, Pa. (PRWEB) March 25, 2015
Schubert b2b, a top tier tech marketing agency, today announced the launch of its new global website. The site, http://www.schubertb2b.com, is laced with examples of real client success stories for technology marketers. The site also features content on timely marcom trends, analysis and news. The site's TechTalk Blog enables immediate interactive opportunities for technology marketers. It draws on the agency's rich experience in technology fields such as chemicals, pharmaceuticals, computer hardware and software, metallurgy, instrumentation and IT.
Schubert b2b's striking new site was designed and developed by the agency's interactive group. Employing responsive design, the site automatically adapts formats for optimal viewing on any device – desktop, laptop, tablet or smartphone.
"I want visitors to quickly dial into our agency's 36 years of experience in world-class technology marketing," said Rich Carango, president of Schubert b2b. "We get it. Tech B2B is all we've been doing since we opened our doors. We've made it a priority to help tech marketers everywhere with our documented real clients, real success case studies. In my mind, nothing telegraphs ideas better than specific stories of tech companies who are beating competitors in the real world."
Schubert b2b believes every client wants world-class marcom performance to be a big winner. World-class is not just for industry giants. Schubert b2b's new tech marketing website will appeal to any size tech company looking to be a brand leader in their field.
"Ordinary run-of-the-mill marcom that is so prevalent today is like a very expensive marketing boat anchor," said Carango. "Our new Schubert b2b website shows tech companies how to weigh anchor and power their ship ahead."