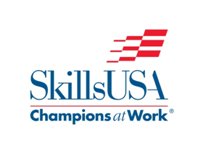 These SkillsUSA students are the champions of our industry. We are not only proud to support their talents, but also believe their example of hard work and 'technical athleticism.'
Leesburg, VA (PRWEB) March 25, 2015
SkillsUSA is pleased to announce the appointment of Montez King, director of credentialing for the National Institute for Metalworking Skills Inc. (NIMS), as a volunteer Expert for the Manufacturing Team Challenge students competing at the 43rd WorldSkills Competition, Aug. 11-16 in São Paulo, Brazil.
Mr. King will be responsible for preparing and mentoring three students who will join 16 other SkillsUSA students as part of SkillsUSA's WorldTeam. Mr. King will also serve as a judge of the Manufacturing Team Challenge (MTC) contest in São Paulo, but he will not evaluate the U.S. team.
The biennial WorldSkills Competition promotes global workforce skills development and provides a vehicle for comparing career and technical students and methods of training among industrialized nations. About 1,000 individual students, age 17 to 22, from nearly 70 countries will compete in one of almost 50 contests covering manufacturing and engineering, construction and building technology, information systems and communications technology, social and personal services, and transportation and logistics.
A grant to SkillsUSA from the Alcoa Foundation will partially underwrite the WorldTeam and enable SkillsUSA to enter students in the Manufacturing Team Challenge contest for the first time. The MTC contest involves three student teams that perform design, production, assembly and testing of a manufactured product — all technical and career skills in high demand worldwide among manufacturers.
"We are very grateful to NIMS and to Mr. King for stepping forward to assist our students in this international showcase of skilled workforce education," said Tim Lawrence, executive director of SkillsUSA. "NIMS has been a very important and loyal partner to SkillsUSA, helming volunteer support for our national machining contests at our SkillsUSA Championships and now adding the mentorship of our MTC students preparing for this summer's WorldSkills Competition."
"These SkillsUSA students are the champions of our industry," said Jim Wall, executive director, NIMS. "We are not only proud to support their talents, but also believe their example of hard work and 'technical athleticism' will inspire more young people to pursue in-demand careers in precision manufacturing."
About NIMS
The National Institute for Metalworking Skills (NIMS) was formed in 1995 by the metalworking trade associations to develop and maintain a globally competitive American workforce. NIMS sets skills standards for the industry, certifies individual skills against the standards, and accredits training programs that meet NIMS quality requirements. Visit: http://www.nimsready.org.
About SkillsUSA
SkillsUSA (http://www.skillsusa.org) is a not-for-profit association that serves more than 300,000 member high school, college and postsecondary students — and their instructors — in trade, technical and skilled service instructional programs. SkillsUSA partners educators and students with business and industry to help ensure the United States has a rising skilled workforce that is well prepared. SkillsUSA has the active support of more than 600 companies, trade associations and labor unions at the national level. SkillsUSA has had more than 11.9 million annual members since its founding as the Vocational Industrial Clubs of America in 1965. SkillsUSA programs teach leadership, citizenship and character development to complement technical skill training. The organization emphasizes respect for the dignity of work, ethics, workmanship, scholarship and safety.