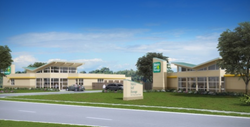 Lake Forest, Illinois (PRWEB) March 26, 2015
Metro Storage LLC recently announced the purchase of a parcel of land in Orlando, Florida to build a new self storage facility, the company's 23rd in the state. Located at 7627 Narcoossee Road in southeast Orlando, the new state of the art facility will have multiple single story buildings encompassing 100,000 rentable square feet of climate controlled (70%) and non climate controlled units, along with 100 outdoor covered RV parking spaces.
"Metro has had a strong presence in the Tampa and Southwest Florida markets for many years," said Matthew Nagel, Chairman of Metro Storage LLC. "This new facility has been designed to help meet the growing self storage demands in the Orlando market."
Located near prime residential communities and the growing Lake Nona area, home to Florida's new Medical City, the store will also feature drive up units, covered parking for RV's, boats, and automobiles, and state of the art security. The new store is scheduled to open in the fall of 2015.
About Metro Storage LLC
Metro Storage LLC is a privately owned, fully integrated, international self-storage operating company specializing in the development, construction, acquisition, and management of self-storage facilities in the USA and Brazil. Metro operates under the trademark Metro Self Storage in the US, being one of the top 10 largest owner/operators of self-storage facilities in the United States with over 100 stores covering 11 states. Metro operates in Brazil under the trade name MetroFit which is one of the fastest growing self-storage companies in Brazil. More information about the firm is available at http://www.metrostoragecorporate.com