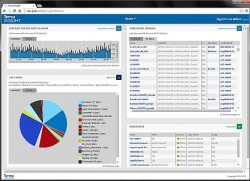 Our agile development methodology allows us to bring frequent enhancements to our products
Boulder, Co (PRWEB) March 26, 2015
JAWS 5.2 and TermaINSIGHT 5.2 both incorporate enhanced features that address customer needs and add to the value that customers already realize from the two products. The 5.2 release addresses needs in CA 7, AutoSys, and Tidal workload automation environments.
Shane Hade, CEO of Terma comments, "We place the greatest importance on requests and feedback from our customers to ensure that the direction of our development is in direct alignment with the needs in the market. Our agile development methodology allows us to bring frequent enhancements to our products and respond quickly to any requests that come from our customer base. Plus, our extensive expertise in workload analytics allows us to be innovative and thereby help customers reach a new level of visibility, performance, and maturity in their mission-critical workload operations."
Enhancements in 5.2 span multiple areas of the product including alerting, reporting, additional support for CA 7 agents, and machine utilization in Tidal. The enhancements to TermaINSIGHT include both historical and forecasted machine utilization on any filtered list of machines as well as the specific jobs running on those machines.
Jim Anderson, VP, Product Strategy, Sales & Marketing says, "If you haven't seen a demo of TermaINSIGHT yet, be sure to contact a Terma Account Executive to arrange one. Mobile responsive, the product is job-based and is an easy-to-use front-end to your underlying scheduler. Since its launch earlier this year, we are gratified by the enormous response in the market to this new offering from Terma."
About TERMA
Over the past decade Terma has developed the industry's most comprehensive knowledge of workload data and the ability to leverage that understanding to provide measureable business analytics. Terma's products, TermaINSIGHT and JAWS Workload Analytics, enable companies to optimize their workload processing and realize more value from their automation tools by providing SLA management, forecasting, prediction, and reporting. The products ensure that companies can lower their costs and improve the reliability and performance of their mission critical workloads.
For more information, please contact Dana Schwartz at 303.396.1486 or email dana(dot)schwartz(at)termalabs(dot)com.