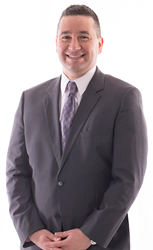 I didn't want our family business to be another one of these stories you see on the news, where a 30-plus year old company is forced to close because they didn't adapt.
Tewksbury, MA (PRWEB) May 06, 2015
As a married, 43 year old man, Boston entrepreneur Jamie Jamitkowski may not be the stereotypical owner of the million-dollar online lingerie company, UndercoverWear, but he's taking the family business in a brand new direction in 2015. With the launch of a new website and the introduction of the company's Spring product line, Jamitkowski is pushing the company past its history and reinventing it with a new brand, image and strategy.
UndercoverWear is recognized internationally as a leading lingerie brand, specifically in the Home Party Industry. Started in 1977 by Walter and Tiffany James, the company and its owners were a true American Success Story, featured on everything from Oprah and Donahue to Lifestyles of the Rich & Famous. As the company entered 2001, the founders were ready to retire and the company was passed to their son, Jamie. He continued in the party-plan industry until the 2008/2009 recession hit the company hard and he recognized a change was needed.
"The future of our business is in e-commerce," said Jamitkowski, " I didn't want our family business to be another one of these stories you see on the news, where a 30-plus year old company is forced to close because they didn't adapt."
The biggest step in that change occurred in October of 2014 when Jamitkowski engineered the sale of the company's 37-year-old party-plan division to LOVEWINX, Inc, a California-based company. Divesting of the company's long-standing sales force allowed the company to reorganize and redirect to an online sales model. That phase of the plan was launched when Jamitkowski spun off as a new company and brand, the UCW Boutique, that features lingerie, sleepwear and body care products: "I'm trying to redefine UCW Boutique for women today. We want women of every shape, size, age, and background to find something that is perfect for them."
Changing the branding of the company from the traditional UndercoverWear name to the newer, trendier, UCW Boutique was a conscious choice. The online store focuses on styles and products that are a departure from the UndercoverWear of old and better reflect the new direction of the company. The company is now working with past lingerie and sleepwear vendors as well as a number of new product lines: everything from small, handmade soap products made in Texas for their "BODY" line to the racier, "Bootiful" and "Boobiful" enhancement creams for women.
The company has taken a stronger approach to social media utilizing Facebook, Twitter and Instagram to connect with customers, often asking them to choose upcoming styles and trends the company will feature. UndercoverWear has also created a group of bloggers, who are real customers, fans and even models for the company. By allowing customers to connect personally with the bloggers, it reinforces that UndercoverWear is targeting real women in their real lives.
Jamitkowski knows that it is a long road ahead for the company but wants to share his story with other business owners and entrepreneurs: "When you take your biggest sales outlet and get rid of it, it makes things tough. There are days when sales are so slow, I check the internet lines to make sure everything is working! But in the media today, there is so much attention on the big retailers, I think small businesses get lost in the shuffle. I want other second-generation and new business owners to know that there are other companies fighting and adapting to stay relevant in the marketplace today."