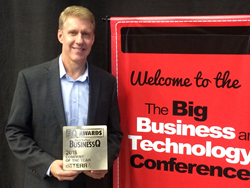 "Pleasant Grove is perfect for us. Utah is perfect for us. We have 60 acres here, and we want this to be an inviting, welcoming place for the community. We are committed to Utah."
Pleasant Grove, Utah (PRWEB) March 26, 2015
With more than 1,300 employees, 1 million Wellness Advocates, and many million-dollar revenue days, dōTERRA is dominating the essential oils industry. And with their brand new, state-of-the art campus in Pleasant Grove, they are building strong roots at home in Utah County.
dōTERRA was previously awarded the 2013 Utah Valley Business of the Year by the Utah Valley Chamber of Commerce, was recently recognized by Pleasant Grove with the Mayor's award and has now been awarded Business of the Year by Utah Valley BusinessQ.
The Q Awards celebrate Utah County's top movers and shakers in 2014. There are six categories — Company of the Year, Entrepreneur of the Year, Executive of the Year, Marketer of the Year, Philanthropist of the Year and Headliner of the Year.
"We are honored by the award," states David Stirling, Founder and CEO. "Pleasant Grove is perfect for us. Utah is perfect for us. We have 60 acres here, and we want this to be an inviting, welcoming place for the community. We are committed to Utah."
That commitment includes sponsoring local high schools, partnering with the athletic department at BYU, supporting organizations like Now I Can and Clear Horizons, and promoting STEM education to Utah's youth.
dōTERRA was founded in the spring of 2008, when a group of health-care and business professionals who shared profound personal experiences with the benefits of essential oils came together. They shared a common vision of bringing a new standard of therapeutic-grade essential oils to the world.
The first offering of dōTERRA essential oils—25 single oils and 10 oil blends—was introduced for sale on April 25, 2008. Essential oil experts and product enthusiasts immediately recognized the superior quality of dōTERRA therapeutic-grade essential oils. In December 2008, dōTERRA reached $1 million in sales. Less than a year later, the company was celebrating its first $1 million month. Now, dōTERRA has regular $1 million days, a new state-of-the-art corporate headquarters, and over a million Wellness Advocates.
"We look forward to continued growth and success," adds Stirling. "Awards like this are tributes to the excellent work of our scientists, physicians, growers, Wellness Advocates and employees. Our team truly cares about improving health for others, and providing valuable education so essential oils can be used to help people all over the world. I am honored to associate with the great people I have met because of dōTERRA and am thrilled that Utah is our home."
About dōTERRA
dōTERRA© INTERNATIONAL, LLC is a world leader in the sourcing, testing, manufacturing, and distribution of CPTG Certified Pure Therapeutic Grade® essential oils through a global network of independent product consultants called Wellness Advocates. In addition to a premium line of single-plant extracts and proprietary essential oil blends, the company offers oil-infused personal care and spa products, dietary supplements, and healthy living products for the home.