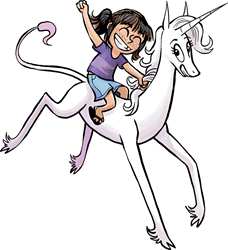 Kansas City, Mo. (PRWEB) March 30, 2015
Universal Uclick, an Andrews McMeel Universal company, launched Dana Simpson's Phoebe and Her Unicorn in more than 100 publications on Monday, March 30, making this one of the largest comic strip launches in company history.
"For our sales team to get more than 100 paying clients for a new comic in this challenging market speaks not only to their hard work, but to the high quality of Dana Simpson's creation," Universal Uclick President John Glynn said. "I can firmly say I now believe in unicorns. "
Phoebe and Her Unicorn tells the story of an unlikely friendship between Phoebe, a bright and sassy child, and Marigold, an arrogant unicorn. The storyline explores the tales of childhood, friendship, magic and humor.
"If your life suffers from a shortage of unicorns, precocious little girls, or sparkles, then I'm excited to be able to help," Simpson said.
Phoebe and Her Unicorn is available on Universal Uclick's consumer-facing website, GoComics.com and via the GoComics mobile application, home to many of the world's most notable comic strips, comic panels and editorial cartoons.
Consistently in the top 30 most-viewed features on GoComics, Phoebe and Her Unicorn has an enormous, dedicated, international following of men, women and children, and high-profile fans like Peter S. Beagle ("The Last Unicorn") and Jan Eliot ("Stone Soup").
The online popularity of Phoebe and Her Unicorn led to a deal with Andrews McMeel Publishing. The 224-page Phoebe and Her Unicorn comic collection was released in September 2014, and a second book will be available in May.
Simpson grew up in and around Seattle. She always enjoyed drawing and reading comic strips. She created her first comic at age 5, called "Boo," which was about easily frightened, narcoleptic ghosts.
While attending The Evergreen State College, Simpson was a finalist for the Scripps-Howard Charles M. Schulz College Cartoonist Award. During those years, she created one of the first web comic strips, Ozy and Millie, which she would draw for 10 years, amassing a devoted cult following. She also worked as a freelance editorial cartoonist, her work appearing regularly in several newspapers and in the magazine Funny Times.
In 2009, Simpson won the Amazon/Universal Uclick Comic Strip Superstar Contest, which landed her a contract to develop what would become "Phoebe and Her Unicorn" for syndication.
Simpson lives just outside Seattle, in Lakeland North, Washington, with her husband and cat.
For more information about Phoebe and Her Unicorn and Dana Simpson, visit universaluclick.com/comics/phoebe-and-her-unicorn or read the comic strip online at gocomics.com/phoebe-and-her-unicorn.
###
NOTE: Dana Simpson is available for interviews. Contact Julie Halper at 816.581.7658 or jhalper(at)amuniversal(dot)com.
About Universal Uclick
Universal Uclick is the largest independent content syndicate in the world and a leading digital entertainment provider of humor, comic strips, political cartoons and other content for print, Web and mobile devices. Universal Uclick provides editorial development, licensing and other distribution services for iconic brands such as Doonesbury, Dear Abby, Miss Manners and some of the most significant comics in history, including Calvin and Hobbes, Garfield, Peanuts, Dilbert, For Better or For Worse, Cathy and Ziggy. Recent standout successes include Lio, Cul de Sac, Pearls Before Swine, Get Fuzzy, Big Nate and The Argyle Sweater. A full comic catalog can be found at GoComics.com or via its mobile/tablet app on multiple platforms. For more information on Universal Uclick, visit UniversalUclick.com. To stay informed about news pertaining to Universal Uclick, its content and creators, follow the company's Twitter handle @UniversalUclick.