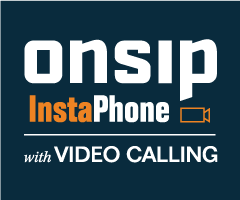 It gives me great pleasure to honor OnSIP as a 2015 recipient of the WebRTC Product of the Year Award for their innovative product, InstaPhone
New York, NY (PRWEB) March 26, 2015
OnSIP announced today that TMC, a global, integrated media company helping clients build communities in print, in person and online, has named OnSIP InstaPhone as a 2015 WebRTC Product of the Year Award winner.
InstaPhone, one of OnSIP's WebRTC-based products, is a business-grade phone that presents workers with all of the features of a deskphone right in their browser. With unprecedented interoperability, the app is capable of voice calling to and from any SIP phone, software phone, webpage, or the Public Switched Telephone Network. It also offers HD video calling and displays real-time caller data (such as what product the caller is viewing) when a call is initiated from a webpage.
"InstaPhone offers an easy way for remote workers to use the OnSIP phone system," said OnSIP customer Laura Subotky, Director of Innovation and Technology at Little Kids Rock. "It's simple to setup and use and it works right in the browser without requiring downloads. As a remote worker who also travels, I use InstaPhone almost every day. InstaPhone also gives our team additional capabilities. It offers a way to add custom one-click buttons for video calls on our website so that our donors and teachers can directly connect with the right staff member."
InstaPhone is accessible within a webpage and as an application in the Salesforce AppExchange. InstaPhone for Salesforce lives right in the Salesforce dashboard and adds to the standard features by displaying linked leads, opportunities, and accounts for each caller. Leveraging this integration and InstaPhone's custom data display, sales and support agents can engage in informed discussions to better close deals and solve problems.
"As proponents of WebRTC, we are pleased to be presented with the WebRTC Product of the Year Award for InstaPhone," said Nicole Hayward, VP of Marketing and Product Management. "InstaPhone began as a simple phone alternative for businesses to get started with the OnSIP cloud phone system in minutes. As we continue to add features, it is becoming my phone of choice at work and on the go. We are excited to continue to innovate with WebRTC."
"It gives me great pleasure to honor OnSIP as a 2015 recipient of the WebRTC Product of the Year Award for their innovative product, InstaPhone," said Rich Tehrani, CEO, TMC. "Our judges were very impressed with the ingenuity and excellence displayed by OnSIP in their groundbreaking work on InstaPhone."
For more information about OnSIP InstaPhone on the Salesforce AppExchange, click here.
About OnSIP
OnSIP is a leading provider of real-time communications (RTC) services to over 40,000 businesses. OnSIP® Business VoIP customers enjoy the benefits of advanced phone system features without the traditional high cost, burden, and inflexibility. The company also offers a cloud platform and simple APIs for companies to rapidly and affordably build RTC applications of their own. For more information, visit http://www.onsip.com.
About TMC
TMC is a global, integrated media company that supports clients' goals by building communities in print, online, and face to face. TMC publishes multiple magazines including Cloud Computing, IoT Evolution, Customer, and Internet Telephony. TMCnet is the leading source of news and articles for the communications and technology industries, and is read by as many as 1.5 million unique visitors monthly. TMC produces a variety of trade events, including ITEXPO, the world's leading business technology event, as well as industry events: Asterisk World; AstriCon; ChannelVision (CVx) Expo; Customer Experience (CX) Hot Trends Symposium; DevCon5 - HTML5 & Mobile App Developer Conference; IoT Evolution Conference & Expo; SmartVoice Conference; Software Telco Congress; Super Wi-Fi Summit - The Global Spectrum Sharing and TV White Space Event; SIP Trunking, Unified Communications & WebRTC Seminars; Wearable Tech Conference & Expo; Fitness and Sports Wearable Technology (FAST) Expo, WebRTC Conference & Expo; and more. Visit TMC Events for additional information.
For more information about TMC, visit http://www.tmcnet.com.
TMC Contact:
Rebecca Conyngham
Marketing Manager
203-852-6800, ext. 287
rconyngham@tmcnet.com
###