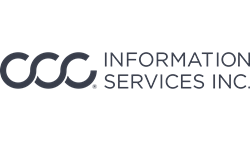 Chicago, IL (PRWEB) March 26, 2015
CCC Information Services announced today the availability of its 2015 Crash Course, an in-depth report that focuses on the trends and business drivers impacting the auto physical damage industry. This year's report examines 'Smart Connections,' the pervasiveness of technology and the subsequent availability of rich data that is being shared between consumers, vehicles, insurers and auto repairers. Crash Course is compiled using research and information from a wide range of sources and an aggregated set of data from CCC's data warehouse, which includes approximately 160 million claims worth of information.
"The ubiquitous nature of technology among consumers, businesses and within vehicles is creating vast amounts of data and information that can be analyzed and applied to better serve consumers, tailor products and identify new business opportunities," said Susanna Gotsch, Lead Industry Analyst, CCC Information Services. "We're calling this dynamic 'Smart Connections' and in this year's Crash Course, we explore how it is both necessitating and enabling auto insurers and collision repairers to operate and perform in new and different ways."
The Crash Course report also provides in-depth analysis on repair costs, total loss trends and a myriad other factors that contribute to the performance of the automotive claims and collision repair industry.
Download the 2015 Crash Course report and infographic.
About CCC Information Services Inc.
CCC brings together what matters most – insight to make the best decisions, connections into the industry's leading auto claims network and superior productivity through an innovative single platform. Founded in 1980, CCC is the nation's leading provider of advanced software, workflow tools and enabling technologies to automotive collision repairers, parts suppliers, and property/casualty insurance carriers. Its client base includes more than 350 insurance companies and more than 21,000 repair facilities. In addition, the CCC True™ Parts Network connects hundreds of parts suppliers with repairers. CCC also delivers the most comprehensive, best-in-class industry insights by leveraging data captured from the millions of transactions processed through its network, and the forward-looking, trusted advisor perspective of its people. You can find out more about CCC Information Services Inc. by visiting the company's web site at http://www.cccis.com.