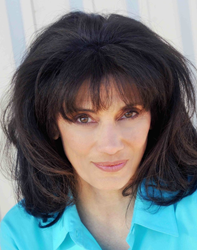 "...Butterfly On Lotus was a hit and and she is coming through again. Ron (Bloomberg) just as a real knack for finding the funny bone in humanity. And these days, that is a real treasure." Debrianna Mansini, Actress
Santa Fe, NM (PRWEB) March 27, 2015
It's a night of hilarity in the black box theater at Warehouse 21 this week. It's not often a show sells out in Santa Fe, but when it does, it's a gift- not only to the artists involved, but to the audiences who get to experience it. And 'Seriously Funny' is delivering.
Actress Debrianna Mansini stars in all three of the shows written by Ron Bloomberg. Bloomberg and Mansini first met when he wrote a radio play for KSFR radio in Santa Fe. The pair hit it off and Mansini is thrilled that he decided to work with her again on 'Seriously Funny.'
The evening has three plays- The Unreal Housewives of Santa Fe, We The People and Guess Who Is coming To Santa Fe? "Each role is entirely different. In The Unreal Housewives (an ensemble piece) Butterfly is a new age woman who occasionally spits out a hilarious temper, in We The People, I play a character who is a Democrat. She can never find a boyfriend. And wouldn't you know it... she meets a Republican (played by Todd Anderson) and, well, you just never know where common ground can be found. Its a great three hander with Robyn Reed playing my girlfriend. In the last piece, I play opposite the wonderful JD Garfield. We play a couple who moved to Santa Fe and are having the time of their lives, until they get a nightmare visit from old friends (played by Jerry Ferraccio and Deborah Dennard). They also fall in love with Santa Fe and trouble ensues.
"I worked on a version of the "Unreal Housewives of Santa Fe" written for the radio show. My character, Butterfly on Lotus, was a hit and and she is coming through again. Ron just as a real knack for finding the funny bone in humanity. And these days, that is a real treasure." Mansini just completed a successful run of David Lindsay-Abaire's Kimberly Akimbo with For Giving Theater Ensemble and feels blessed to be going from one project to the next. She is slated to be back on the boards with the For Giving Ensemble this summer with "Rapture, Blister, Burn," directed by Janet Davidson. Says Mansini," Being a working actor is thrilling and a true joy. What could be better than being able do to that AND live in Santa Fe?"
Bloomberg wrote for All In The Family, Three's Company, Gimme a Break, 227, and many more before he moved to Santa Fe, where he has continued to write. His last piece was a reading of a new work titled "The Queen of Madison Avenue," also a sell out in the eight hundred seat Lensic Theater. One might say he is still on a roll. 'Seriously Funny' has been sold out every performance and had to add another show this Friday. If you want to see it, you should call now. Seriously.
'Seriously Funny' - Three plays by Ron Bloomberg
Warehouse 21
1614 Paseo De Peralta
Santa Fe, NM
Tickets at the Lensic Box Office 505.988.1234 or ticketssantafe.org
Friday March 27th and Sat March 28th 7:30pm
Sunday March 29th 2pm