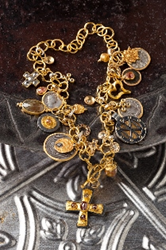 "I have long admired Denise's work and I feel honored to host her trunk show for our "Gold Rush" event." Karen Melfi
Santa Fe, NM (PRWEB) March 27, 2015
At first glance, one might see a city awash in brown. It takes a subtle eye to catch the wonder of color that lives in Santa Fe. And a proclamation by the Mayor. This year, Mayor Gonzales joins the city's Museums and Galleries for a new event celebrating just that notion. The Summer of Color is a city wide event focused on the wide array of color that exists here in the City Different.
The Karen Melfi Collection, a member of the Santa Fe Gallery Association, joins the Summer of Color with their appropriate color choice, gold. On July 24th, "Gold Rush" will come to the Canyon Road location, featuring the works of Karen Melfi, a thirty five year veteran in jewelry design. Melfi will also host a trunk show with nationally known Santa Fe jeweler, Denise Betesh. While Melfi's designs are primarily 22kt gold and natural colored diamonds, Betesh focuses her work on gold granulation and a variety of precious and semi precious stones. The works are a strong compliment to each other, as well as the wide array of other mostly local artists in the gallery collection.
"We are very excited to be a part of this event and to be working with Parasol Productions, who will help us coordinate an exceptional show. Cindy Tanner and Valerie Levine from Parasol have been outstanding in the past and we expect nothing less during the "Gold Rush."
Melfi has had the Karen Melfi Collection for over twenty five years and attributes her long success to her dedication and to her keen eye for choosing some of the best local artists around. Denise Betesh is no exception. Says Melfi,"I have long admired Denise's work and I feel honored to host her trunk show for our "Gold Rush" event."
Betesh was born and raised in Brooklyn, NY. Denise discovered her interest in jewelry early. As a teenager in the 60′s, Denise created some of her first pieces in wire macrame. She made several wedding bands, one of which her grandmother wore. She had the good fortune to have it seen by Cartier jeweler Aldo Cippullo, who commissioned work from her and encouraged her career. As a result, she attended the Boston Museum of Arts, specializing in ancient techniques, and studied in New York at the Jewelry Arts Institute (formerly Kulick-Stark), specializing in granulation and chain making.
The Karen Melfi Collection is located on historic Canyon Road in the 225 Compound.
July 24th
225 Canyon Road
Santa Fe, NM 87501
505.982.3032
http://www.karenmelficollection.com