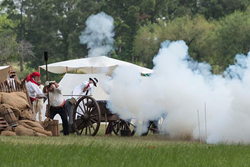 We are so proud to continue to present this festival with free admission and parking, which would not be possible without our presenting sponsor H-E-B.
Houston, TX (PRWEB) March 26, 2015
The largest battle reenactment in the state is the centerpiece of the admission-free San Jacinto Day Festival, held on Saturday, April 18, 2015, from 10 a.m. to 6 p.m. on the grounds surrounding the San Jacinto Monument. The reenactment recreates the events leading up to Texas winning its independence from Mexico 179 years ago at the decisive Battle of San Jacinto on April 21, 1836.
The festival is a full day of entertainment, vendors, food, family activities, cultural exhibitors, games and fun set amidst living history: music and dancing on two stages featuring flamenco dancers, square dancers and much more; 15+ food vendors; make-and-take activities and crafts for children; children's train; petting zoo; medicine wagon show; birds of prey; weavers, spinners, blacksmiths and other demonstrators; and dozens of unique hand-crafted items for sale. New entertainment includes mechanical bull rides for kids, "All Stars" Youth Banjo Band, pony rides, Ballet Folklorico, and Amber & The Rascals playing country, rock, new country, Motown and music "from many decades."
"We are so proud to continue to present this festival with free admission, shuttles and parking, which would not be possible without our presenting sponsor H-E-B, as well as The Dow Chemical Company, Vopak, Pasadena Strawberry Festival and LyondellBasell," says Larry Spasic, San Jacinto Museum of History President. "Just as important are our partners who help us coordinate this event, including the City of La Porte, TPWD, the volunteers from San Jacinto College and Deer Park ISD, Clean Harbors, KHOU, La Porte EMS and Hampton Inn Deer Park."
The event is coordinated by the San Jacinto Museum of History Association with the assistance of Texas Parks & Wildlife and the San Jacinto Volunteers reenactors.
San Jacinto Day Festival and Battle Reenactment:
On Saturday, visitors can wander freely among the Mexican and Texian camps of the reenactors to learn what the soldiers and their families were doing prior to the battle in 1836 as the reenactors become figures in history for the weekend. At 3 p.m., the official (and historically accurate!) reenactment of the Battle of San Jacinto begins; with hundreds of history reenactors—complete with cannons, horses, women, children and pyrotechnics—it is the largest in the southwestern United States.
All festival activities are updated regularly on the San Jacinto Museum of History website at http://www.sanjacinto-museum.org. Entertaining and educational activities scheduled include:

Dan Barth will use his Medicine Show Wagon to tell the tales of special 19th century cure-all elixirs, and entertain with a little magic.
Last Chance Forever, The Birds of Prey Conservancy will present interactive demonstrations of magnificent birds including hawks, owls, eagles, falcons and vultures.
K.R. Wood (Camp Cookie) will bring history to life through songs and tales with the Chuck Wagon of Texas History, complete with Dutch oven demonstrations, samples, roping steer head demonstrations, stick horse relay races, and historical stories about the Texas Revolution and cattle drives. K.R. was nominated for Texas Musician of the Year in 2009 by the Texas Commission for the Arts; is a member of the American Chuck Wagon Association; and has been recognized by the 75th Texas Legislature in 1997 for keeping Texas history alive with his first Fathers of Texas CD.
Texas Snakes – a fun and hands-on educational show for all ages of many different species of non-venomous indigenous snakes of Texas for the children to view and touch. Emphasis is teaching about the environment and how snakes/reptiles provide their part for the balance of nature.
"All Stars" Youth Banjo Band – made up of boys and girls from 6 to 17 years playing plectrum and 5-string banjos, ukuleles, mandolins, bass, fiddles, keyboard, drums and guitars, as well as singers and dancers. In addition to being musically entertaining, the band presents a program that is fun, heart-warming and inspirational.
Solero Flamenco presents a "fiery, passionate and virtuoso flamenco performance," led by founders Irma La Paloma and Jeremía García.
Representatives from the Buffalo Soldiers National Museum (BSNM) will provide presentations dedicated to preserving the legacy and honor of the African-American soldier.
Lord Stirling's Fifes and Drums will provide musical entertainment throughout the day.
Blacksmiths, weavers, spinners and other demonstrators will give visitors a full sense of how life was in the early 1800s. Sutlers (civilians who sold provisions to military posts) will be on hand to sell or show their wares.
Texas Parks & Wildlife Department will offer archery classes for young people.
Visitors can also view the restored marshlands and look for otters, great blue herons, osprey, mottled ducks and American avocets. The marsh is historically important because it barred the escape of many of General Santa Anna's troops during the 1836 battle.
Representatives of the San Jacinto Descendants, the Daughters of the Republic of Texas, the Sons of the Republic of Texas, the Texas General Land Office and the Texas Independence Trail Region will be on hand to share their history.
Texas Independence Square Dancers—square dancers from various groups throughout Texas—will demonstrate square dancing and give lessons.
Visitors can browse through the vendor area to admire unique hand-crafted items, Texas products and history-related items.
The Children's Area—sponsored by The Dow Chemical Company and Deer Park ISD—includes:

A 55' train complete with train whistle and Texan and American flags.
Make-and-take history activities and crafts created by Gifted/Talented specialists from Deer Park ISD; overseen by volunteer teachers from DPISD and student volunteers from San Jacinto College.
Marsha's Petting Zoo with sheep, goats and other friendly small animals.
Sandbox Dig created by the San Jacinto College.
The San Jacinto Monument is open all day year round except for Thanksgiving Day, and December 24th and 25th. Visitors can ride the elevator to the top for a panoramic view of the festivities, explore the special exhibit, watch a Texas history movie and tour the hundreds of museum pieces on display. There are modest admission fees for the elevator ride, digital presentation and special exhibit inside the Monument.
For more information, the public may visit http://www.sanjacinto-museum.org or call 281-479-2421.