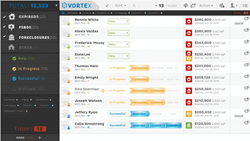 "Vortex is a dynamic prospecting platform," said Curtis Fenn, CMO. "It's designed to help agents transform leads into commission-paying, life-time customers."
OREM, Utah (PRWEB) March 25, 2015
Real estate software company, REDX, announces the launch of Vortex®, its new web-based lead management platform. Vortex is an intuitive and elegant prospecting experience, with three patents pending, designed to guide real estate professionals to prospect in a way that is proven to get results.
"Our mission as a company is to clear the path to success for real estate professionals," said Mark Leck, CEO. "We wanted to invent a new prospecting experience, not just another lead manager in the cloud."
Vortex creates a unique prospecting experience in three ways:
1. Simplicity. From a sleek, five color palette and elegant UI, Vortex immediately focuses the user on two primary actions. First, to filter their leads in alignment with their market objectives, the initial step in all lead management. Second, it directs the client to their desired method of prospecting: calling, mailing, or knocking.
2. Organization. Vortex reimagines how to organize leads in a visual way through the patent pending "Lead Progress" ribbon. This status ribbon provides users with a clear visual of the progress of every lead within their sales funnel. This creates a natural prompt for the agent, while simultaneously identifying the next step in the funnel that the lead should be progressing towards.
3. Boundary Elimination. Vortex is the first prospecting platform to detect when a property has multiple lead types. For example, a property could be a Pre-Foreclosure, FSBO, and Expired lead simultaneously. Instead of showing these disparate lead types in a siloed view, the industry standard, Vortex combines them in a unified property view to provide the agent with a complete understanding of the subject property's history.
"Vortex is a dynamic prospecting platform," said Curtis Fenn, CMO. "It's designed to help agents transform leads into commission-paying, life-time customers."
The Vortex beta group has experienced a rapid word-of-mouth adoption with more than 2,000 users. REDX will now be bringing all new clients onto the Vortex platform. Existing clients will be migrated market-by-market beginning in early Q2 . To learn more go to: http://www.theredx.com/vortex. You can also click here to read the full product launch blog post.
ABOUT REDX
REDX is a technology company based in Silicon Slopes, Utah
REDX is a SaaS based technology company which specializes in real estate lead generation, homeowner and property data, and prospecting products and services for real estate professionals. Established in 2003, REDX has worked to help more than 40,000 real estate agents throughout the United States and Canada agents realize their business goals.
###