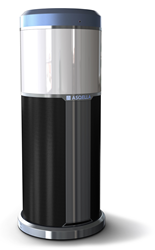 We see a clear increase in the demand for fast-throughput people screening
Helsinki, Finland (PRWEB) April 09, 2015
Asqella, located in Helsinki, Finland, is the first company in the world to offer passive submillimetre-wave imaging systems for security screening applications.
In addition to the security screening market, another major application area for the technology is in loss prevention, especially in retail distribution centres.
"We see a clear increase in the demand for fast-throughput people screening, driven largely by urbanization and the large number of regional conflicts around the world," said Arttu Luukanen, a co-founder and Managing Director of Asqella.
"We have concentrated our efforts toward really understanding what our customers need in order to screen vast numbers of people for concealed items safely and securely while respecting their privacy," continues Luukanen. "One of the outcomes of that analysis is that this radically new technology can actually reduce the costs of security screening, while improving security and convenience in comparison to more traditional measures."
All objects, including humans, naturally emit submillimetre-waves. At the core of Asqella's product, the ARGON, lays a novel, super-sensitive imaging sensor array.
"Aside all the technical wizardry incorporated in the camera, we felt strongly that a matter often overlooked by us engineers is product design: the system has to look good – given that our products are deployed in the public as well as at places of great institutional value," said Luukanen.
The new financing round led by international angel investor syndicate, Shenzhen Lietou Fund, under Shenzhen Leaguer Venture Capital, and VTT Ventures Oy, primes the company to introduce the ARGON to global markets.
The new Asian dimension to Asqella's investors is seen as a major step towards addressing the growing Asian market, including China.
"Off all the places in the world, the pace of urbanization in China remains unparalleled," said Luukanen.
Contact:
Arttu Luukanen, Managing Director, Asqella Oy
arttu(dot)luukanen(at)asqella(dot)com, tel. Int. +358 10 524 1890
http://www.asqella.com, skype: asqellacorp