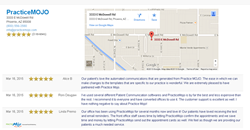 (PRWEB) March 26, 2015
With the release of PracticeMojo's Patient Review Platform, PracticeMojo customers will have an easier to use and fully integrated solution to manage their online reputation. This added functionality further enhances the marketing solutions for practice growth offered by PracticeMojo.
Top Features:
Mobile Friendly - Whether patients are viewing a PracticeMojo review page on a desktop computer, tablet, or even their smartphone, the review page will look like it was designed specifically for the device displaying the webpage.
Leave Reviews via Text Message - Patients will now have the ability to leave reviews via text message. This ease of use allows a practice to maximize the amount of reviews being collected, leading to even better visibility for potential patients searching for feedback on a practice.
Updated Design - The new PracticeMojo review pages have been updated to include more customer information and a large map to make it easy for potential patients to find the dental practice.
Full Integration with PracticeMojo - Logging into the PracticeMojo user dashboard there will be a tab called reviews. This integration allows users to quickly and easily manage their reviews without using any third party sites or software.
Google Integration - Review pages have been optimized for search engines like Google and Bing, including markups that identify positive reviews for inclusion in search engines results. Since each review page is hosted on practicemojo.com, these pages will have a better chance of being indexed by search engines and displaying in search results.
PracticeMojo puts more than 45 years of dental practice marketing experience to work creating proven campaigns that help dental practices recruit, retain and reactivate patients automatically using email, text messages, automated phone calls and mailed postcards. PracticeMojo also offers integrated social media solutions and a consistent, reliable patient communication and marketing strategy. Learn more at practicemojo.com.