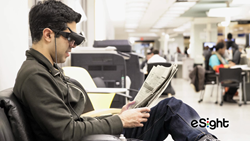 The first, and only, patented technology in the world that helps legally blind people to see is coming to Maryland.
Timonium, Maryland (PRWEB) April 21, 2015
eSight is the only technology in the world that helps people who are legally blind to see and, on Tuesday, May 5th, Low Vision Specialists of Maryland and Virginia (LVS of MD & VA) will host an unveiling and demonstration of the technology at 8:30 a.m at their Timonium, MD office. LVS of MD & VA will be the first ophthalmic practice in Maryland to offer the revolutionary eyewear. A limited number of individual patient demonstrations will be available on the day of the unveiling.
How does eSight work?
eSight's technology works to enhance the quality of an image reaching the brain of an individual with a vision impairment by delivering more visual data and triggering an increased reaction from the cells in the eye. With more high quality data being passed from the eye to the brain, people can see more and better function across almost any task.
eSight glasses combine a high-definition camera, near-to-eye display technology, and advanced image processing to deliver a real-time video that enables sight for people with vision loss. Users have complete control over the image they see, which means they can enhance, magnify, and adjust the image to ensure their eyes can best interpret their world. eSight is also mobile, hands-free, and suitable for near, far, and mid-range tasks, which means that the technology can be used in any part of a person's life to enable almost any activity.
eSight technology is approved by both the US FDA and Health Canada. Observe legally blind patients (Age Related Macular Degeneration AMD, Diabetic Retinopathy, Stargardt's Disease, Retinitis Pigmentosa RP) seeing the world clearly for the first time because of eSight Glasses: the first, and only, patented technology in the world that helps legally blind people to see.
"We design customized optical systems to return our patients to a quality of life that allow them to once again participate in activities of daily life (ADL), including reading, driving and their favorite hobbies," said practice founder Thomas Azman, OD. "Frequently our patients come to us having run out of all other options. They have been told that there is nothing that can be done to improve or restore their sight. We have a 98% success rate in improving the vision of those patients, imagine how much greater their improvement will be with eSight glasses. This is one of the most important developments to help low vision individuals achieve daily functional vision that I have witnessed in four decades of practice."
MEDIA:
Interviews can be scheduled in advance, to be held at the demonstration site,
with low vision patients who are trying the eSight glasses.
A current eSight wearer will be on site and available for interviews.
B-roll is available.
Call to schedule interviews
About Low Vision Specialists of Maryland and Virginia:
Low Vision Specialists of Maryland and Virginia (LVS of MD & VA) specializes in maximizing patient vision and customizing optical systems for adult and geriatric patients suffering with vision loss caused by aging and/or ophthalmic disease, as well as children suffering with Stargardt's disease. LVS of MD & VA improves the quality of life for patients whose vision loss makes activities of daily difficult or impossible. Founded in 1975, the practice has a 98% success rate in improving patient vision. LVS of MD & VA is a member of The International Academy of Low Vision Specialists (IALVS), and has multiple locations in Maryland and Virginia.
About eSIGHT Corporation:
eSight has developed breakthrough electronic glasses that enable sight for the legally blind that enable functional vision for individuals with severe vision loss. By using the eSight technology, people with vision impairments are able to use their improved vision for almost any task, including returning to school and the workplace. The company was founded in 2006 and is now based in Toronto, Canada.
For more information visit: http://www.esightcorp.com