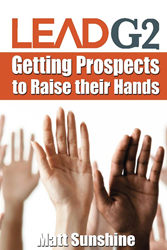 'Sunshine's book is practical, tactical, and a fresh breath from all of the rah-rah that threatens our sales professionals. Dig in and learn.' - Chris Brogan
Dallas, TX (PRWEB) March 31, 2015
"LeadG2: Getting Prospects to Raise their Hands" incorporates over 30 years of sales training experience and was written to help key players within sales organizations navigate the changing research and buying patterns of prospects and clients. When applied, the principles and strategies in this book will help readers generate more qualified leads for their sales team while also developing a new stream of revenue for their businesses.
Matt Sunshine, author of "LeadG2: Getting Prospects to Raise their Hands," said about his reasons for writing the book, "As more consumers (B2B and B2C) turn to online research long before talking to a salesperson, it is critical to identify who and what they are finding online. Are they finding you or your competitor? What information are they finding? A shift in the way you present your brand, engage with prospects and customers, and manage the sales process will not only be beneficial to your business, but critical to its survival."
Chris Brogan, CEO, Owner Media Group, and author of "Trust Agents" and "The Impact Equation," said, "Sunshine's book is practical, tactical, and a fresh breath from all of the rah-rah that threatens our sales professionals. Dig in and learn."
"LeadG2: Getting Prospects to Raise their Hands" walks through the company's proven 7 Step Lead Generation System that has successfully helped companies across the country implement and execute inbound marketing programs.
Patrick Sbarra, co-founder of New Creature Shopper Marketing, elaborated that "'LeadG2: Getting Prospects to Raise their Hands' is rich in actionable insights that will help you grow your business by pursuing and engaging truly ideal customers! You will especially appreciate Mr. Sunshine's clear and articulate style which will help you avoid overcomplicating things in the pursuit of revenue growth."
"LeadG2: Getting Prospects to Raise their Hands" is available now on Amazon.com in Kindle format and in print.
# # #
About Matt Sunshine
Matt Sunshine is Managing Partner of The Center for Sales Strategy and its LeadG2 subsidiary. He developed and launched LeadG2 as a full-service inbound marketing consultancy, strategist, and outsourcing firm to help businesses establish themselves as thought leaders and lower their lead costs. Partnering with HubSpot, the #1 inbound marketing software company in the world, LeadG2 has earned elite status as a Platinum Certified Partner.
Frequently serving as a keynote speaker and moderator, Sunshine has provided audiences with expertise related to lead generation, inbound marketing, digital marketing, sales process, growing sales organizations, and finding and developing sales superstars. He is a featured writer for one of the top sales blogs in America and a regular contributor to leading business blogs and magazines. More about Matt Sunshine.
About LeadG2
LeadG2 is wholly owned and operated by The Center for Sales Strategy, founded by Steve Marx in 1983. LeadG2 fills a need in the inbound marketing industry. Where other companies come from a design or marketing background, LeadG2 is a sales performance company that knows exactly what sales teams need from their firm's marketing staff.
http://www.leadg2.com
Media Contact
LeadG2
Kathleen Celmins
kathleencelmins(at)leadg2(dot)com
503-477-0256