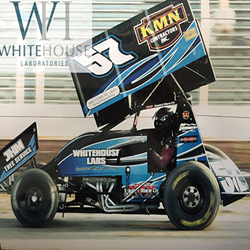 The goals of the race team, fast results coupled with accurate and meticulous driving, are the same basic principles we bring to our cGMP quality control testing laboratory
Whitehouse, NJ (PRWEB) March 29, 2015
As a symbol of its commitment to meet the strict deadlines often required by our pharmaceutical manufacturing clients, Whitehouse Laboratories is excited to announce that is has renewed its sponsorship of the Berkenstock Race Team for the 2015 race season. Success on the race car track requires not only speed, but a strong sense of precision and attention to detail. These are the same principles that lead to success in the quality control testing laboratory. Sponsorship of the race car, run by Gary and Mark Berkenstock based in Greenlane, Pennsylvania, enables the team to continue to pursue their passion for racing on the New Jersey, New York, and Pennsylvania dirt track circuit.
"This is the fourth year in a row that we have elected to sponsor this race car and team," commented Mark Stier, Chief Operations Officer of Whitehouse Laboratories. "The goals of the race team, fast results coupled with accurate and meticulous driving, are the same basic principles we bring to our cGMP quality control testing laboratory. In addition, we are able to assist a few local young men as they pursue their dream of professional race car driving – a win-win all around."
The race car is a wingless 600 horse-power micro sprint series that will compete on dirt track race venues as part of the tri-state micro sprint 2015 series. Starting in April, the car will travel weekly to various venues throughout the tri-state area (NJ/NY/PA) to such tracks as New Egypt and Pocono Racecourse. The primary driver this year will be 20 year old Mark Berkenstock. Mark started racing as a youngster on the Pocono go-kart series and has moved up in class each of the past five years. What is more unique is that Mark was seriously injured four years ago in a race car accident. Even though he spent more than six months hospitalized and still remains partially paralyzed, his love and dedication to race car driving prevails. Older brother Gary will serve as coach, pit crew chief and all around key supporter.
About Whitehouse Laboratories
The Testing Partner to Manufacturing Companies, Whitehouse Labs is an FDA regulated, DEA Licensed, ISO 17025 and ISTA certified contract service provider to the pharmaceutical, medical device, personal and consumer product industries. Whitehouse Laboratories offers analytical services for the testing of materials, finished products, container and package systems that enable our clients to meet and exceed the required quality standards established by the key regulatory agencies.