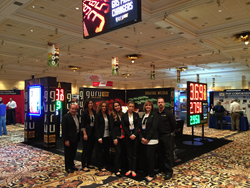 This just goes to prove that LED signage is one of the most effective ways to promote your business.
Torrance, CA (PRWEB) March 26, 2015
Guru Digital Media, a leading manufacturer of digital electronic displays, announced they were selected as one of the most eye-catching and effective exhibitors at the WPMA (Western Petroleum Marketers Association) National Convention & Convenience Store Expo.
Out of several hundred exhibitors at the Expo, Guru Digital Media was one of only eight that were honored as one of the most effective exhibits at the show. Exhibiting Effectiveness Evaluation team, E3, said Guru DM was a "can't miss exhibit, made even more effective by using high level LED signage that grabbed attention and answered the questions of what we do and why you should care."
Tom Boren, CEO of Guru Digital Media was present at the show. He said, "Our customers depend on being seen by the passing public both day and night. We know what it takes to create effective and eye-catching signage for our customers, so it was easy for us to create the same experience for Guru DM at the Convenience Store Expo."
Boren continued, "This just goes to prove that LED signage is one of the most effective ways to promote your business – whether it's out by the street, in a store window, or inside the business itself. Having the ability to capture the attention of potential customers and get your message out to them is critical. "
Guru Digital Media caught the attention of most attendees with their brand new white LED gas price digit sign. This ultra-bright gas price sign was a show stopper as it was seen across the exhibit hall.
Jasmine Lam, product specialist at Guru DM said, "Being recognized by the show as one of the top booths was an honor. But it really proved the point we were trying to make with our new white LED gas price sign: it made everyone notice us – so it will make your customers notice you as well."
The WPMA National Convention and Convenience Store Expo had over 2600 attendees and over 300 exhibitors in attendance. Each exhibitor was judged on three areas: Exhibit Presentation, Product Presentation and Exhibit Staff. Guru DM was number one in all three areas.
About Guru Digital Media
Guru Digital Media (http://www.gurudm.com) is one of the leading providers of LED Gas Price sign products in the United States. The company was founded in 1959 and has helped over half a million customers in its over 50 year history. Guru DM offers many different types of LED messages signs to help America's businesses get the exposure they need to their passing public and potential customers. Guru Digital Media is proud to be an ESOP (employee stock ownership plan) company. Join Guru Digital Media on Facebook at http://www.facebook.com/gurudm.
To learn more about Guru Digital Media please contact Diana Sanchez at 855-722-4878 or e-mail at Dianas(at)gurudm(dot)com.