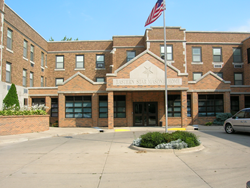 Looking to the future of Care Facilities, we saw an opportunity to stand out from the area.
Boone, Iowa (PRWEB) April 02, 2015
Eastern Star Masonic Home has installed a brand new Wi-Fi system to help residents stay connected with friends and family members.
The network will allow residents to connect their computers and other personal devices so they can stay in touch with loved ones who are unable to visit. The Wi-Fi system also has the added benefit of helping guests while they are visiting their loved ones at the facility.
"Families can often feel pulled in two different directions as they want to visit their family in the Care Facility, but know that they have obligations and responsibilities at home," said Alison Purtle, Human Resources Manager at Eastern Star Masonic Home. "We are providing this amenity to help families stay connected and help create a balance with their obligations and responsibilities while visiting their loved ones."
The new network, which can be accessed throughout the continuing care retirement community, will help the facility grow and offer amenities unmatched by other nearby retirement centers.
"Looking to the future of Care Facilities, we saw an opportunity to stand out from the area," Purtle said. "This new Wi-Fi system opens up the possibility for utilizing new technologies as they become available."
The Wi-Fi system has already begun benefitting the staff with easier access to charting and reviewing records and information as the facility moves further into the use of electronic medical records. In the future, the network could help the facility utilize enhanced security camera, nurse call systems, and wander guard alarms among other enhancements.
Eastern Star Masonic Home is a continuing care retirement community serving the seniors of Boone, Iowa and the surrounding area. Eastern Star offers a number of different senior care living options including independent living, residential care facilities, assisted living, skilled nursing, and a dedicated memory care facility. To learn more about Eastern Star Masonic Home, visit the company's website at http://www.iowaoeshome.com or call (515) 432-5274.