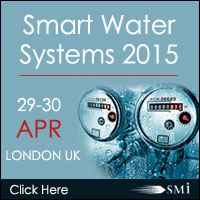 London, UK (PRWEB UK) 26 March 2015
In the run up to the 4th annual show, SMi Group spoke to some of its key speakers about the Smart Water Systems conference taking place on 29th and 30th April and about the smart water industry.
Systems security, technology and customer engagement were highlighted as some of the main challenges facing smart water metering.
Andrew Tucker, Water Efficiency Manager from Thames Water, who will be will be providing unique insights on customer engagement, said:
"We all want smart IT perfection...to fully understand and focus on the amount and quality of engagement and education that is delivered with smarts. Smart IT is only successful if our audience understands it and utilises it. Let's help them understand their water use first, then aim to intelligently work with them to improve their efficiency."
Mike Piccalo, Director of Industrial Security from Waterfall, a leading provider of strong network security products, commented:
"The biggest concern I have is the dramatic increase in the attack surface. Everyone from hacktivists to pilferers to "hobbyists" have physical access to the meters. In spite of our best anti-tampering efforts, common wisdom in the cyber community is that any CPU we can touch, we can hack. There's a lot of people within touching distance of our new metering infrastructures, and those infrastructures are generally all connected directly or indirectly to our safety-critical and reliability-critical control systems."
Erik Oostermeyer, Smart Water for Europe Co-ordinator (SW4EU) from Vitens said:
"Europe has around 3.5 million km of water network. The performance demands on this network are increasing and the network is ageing and whilst circa. € 20 billion/year is being invested for rehabilitation, ensuring a reliable supply of wholesome water to customers will continue to become increasingly challenging. There is an urgent need for new technologies and techniques to meet this challenge but their development and uptake faces obstacles."
To read the full interviews visit the event download centre.
Thames Water, Waterfall Security and Vitens will be joined on the speaker panel by OFWAT, Jersey Water, Energy Saving Trust, Scottish Water plus many more. For further information or to download a brochure, visit http://www.smart-water-systems.com.
Those who have confirmed attendance at Smart Water Systems 2015 include:
Aguas De Cascais Sa, Anglian Water Services Limited, Aqualogy UK, ARAD, Brookfield Utilities, Consumer Council for Water, Energy Saving Trust, Envisager, Frost & Sullivan, gemserv ltd, Hagihon Ltd, Hera Bologna Srl, Jersey Water, Nexus Water, Ofwat Uk, Scottish Water Solutions, Severn Trent Water, South Staffs Water, Southern Water plc, Statkraft Energi AS, Technolog Ltd, Thames Water, Tynemarch Systems Ltd, Vandcenter Syd A/S, Veolia Environmental Services, ViaSat, Vitens, Water Loss Research and Analysis Ltd, Waterfall Security Solutions, Wessex Water, plus many more...
SMi's 4th annual conference:
Smart Water Systems
29-30 April 2015
Marriott Regents Park Hotel, London UK
---END---
Established since 1993, the SMi Group is a global event-production company that specializes in Business-to-Business Conferences, Workshops, Masterclasses and online Communities. We create and deliver events in the Defence, Security, Energy, Utilities, Finance and Pharmaceutical industries. We pride ourselves on having access to the worlds most forward thinking opinion leaders and visionaries, allowing us to bring our communities together to Learn, Engage, Share and Network. More information can be found at http://www.smi-online.co.uk