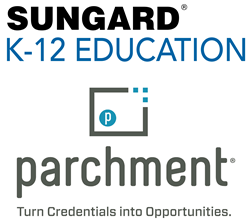 As a result of our new alliance with Parchment, school districts using eSchoolPLUS will be able to help their students seamlessly transmit data with confidence."
Bethlehem, PA (PRWEB) April 29, 2015
Leading software and technical services provider, SunGard K-12 Education, has selected Parchment as its premier provider for the transmission of electronic academic credentials, including transcripts. This new alliance will allow the almost 1,400 public school districts and charter schools using SunGard K-12's eSchoolPLUS student information system to gain peace of mind as they help their students securely share key academic achievements with community colleges, four-year public and private colleges and universities, trade schools, and employers.
SunGard K-12 Education's eSchoolPLUS, an industry-recognized solution for managing student data, helps educational stakeholders—students, school administrators, district staff, teachers, parents, and board members—easily manage and immediately access the summary and detailed student information they need, when they need it. At a time when schools and districts are being asked to share increasing amounts of data, eSchoolPLUS, which is built on a solid foundation of reliable and advanced technology, helps make organizing and disseminating information simple.
A high school transcript marks the first in a series of academic credentials students earn over the course of their lives. Leveraging this hard-earned credential to access future opportunities, including a postsecondary education or a career, can create significant value. The ability to send this credential safely and securely through an electronic medium is how students expect the transaction to occur.
George Pepper, SunGard K-12's president and chief executive officer, welcomes this new alliance with Parchment. "Every year, school districts across the nation use eSchoolPLUS' robust tools to support student achievement. Today, this nation's successful students are considering a broad range of possibilities beyond high school," he says. "As they look to their future, they want to be able to securely share a transcript of their high school experience with undergraduate and other institutions. As a result of our new alliance with Parchment, school districts using eSchoolPLUS will be able to help their students seamlessly transmit that data with confidence."
For more than a decade, Parchment, a credentials management company headquartered in Scottsdale, Ariz., has designed and implemented one of the most secure ecosystems for the global education community's exchange of student academic credentials. The company incorporates state-of-the-art data center security, a patent-owned secure PDF, permission based log-in, and multiple levels of encryption.
Matthew Pittinsky, Ph.D., Parchment's chief executive officer, says thousands of colleges and high schools every year entrust Parchment to safely and securely exchange some of their most important assets—their student transcript data. "Our solution offers end-to-end tracking allowing students, parents, and administrators to access the status of the exchange in real-time," he says. "In addition, schools can leverage Parchment's built-in analytics and reporting capabilities to know where their students are going."
About SunGard K-12 Education
SunGard K-12 Education offers software solutions designed to help teachers, administrators, and parents support student achievement. The PLUS 360 products are a single integrated suite of software solutions for the management of student information, assessment and curriculum, special education, and financial and human resources. The suite—which provides district staff with anytime, anywhere access to important district information—can be deployed to work together or implemented as stand-alone systems to help meet educational goals and requirements. For more information, visit SunGard K-12 Education at sungardk12.com.
About SunGard
SunGard is one of the world's leading financial software companies, with annual revenue of $2.8 billion. We provide solutions for financial services, the public sector, and education. Our software is delivered via Software as a Service ("SaaS"), in the cloud and on premises, surrounded by an extensive suite of service offerings. Through the depth and breadth of our solution portfolio, global capabilities, and domain expertise, we are uniquely capable of supporting virtually every type of financial organization, including the largest and most complex institutions in the world. SunGard's approximately 13,000 employees proudly serve over 15,000 customers in more than 100 countries, bringing fresh ideas and inventive solutions to help our customers adapt and thrive. For more information, please visit http://www.sungard.com.
About Parchment
Parchment is a credentials management company allowing learners, academic institutions, and employers to request, verify, and share credentials in simple and secure ways. The platform has helped millions of people and thousands of schools and universities exchange more than 15 million transcripts and other credentials globally. Founded in 2003, Parchment Inc. is headquartered in Scottsdale, Ariz., with offices in Roseville, Calif., Denver, Colo., Grand Rapids, Mich., Toronto, Ontario, and Washington, D.C. Follow Parchment on Twitter and Facebook.
Trademark Information: SunGard, the SunGard logo, eSchoolPLUS, and PLUS 360 are trademarks or registered trademarks of SunGard Data Systems Inc. or its subsidiaries in the United States and other countries. All other trade names are trademarks or registered trademarks of their respective holders.
© SunGard K-12 Education 2015. All rights reserved.