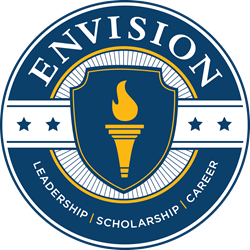 Through the inspiration of visionaries such as Erin Gruwell, Envision can enrich the learning opportunities available to tomorrow's leaders.
Washington, DC (PRWEB) March 26, 2015
Erin Gruwell, teacher, education activist and founder of the Freedom Writers Foundation, will provide the keynote address to a large audience of high school students at the National Young Leaders Conference (NYLC), an Envision program, this summer. Ms. Gruwell's educational philosophy has transformed hundreds of students' lives and drawn national acclaim, in addition to inspiring the film Freedom Writers, starring Hilary Swank.
"Through the inspiration of visionaries such as Erin Gruwell, Envision can enrich the learning opportunities available to tomorrow's leaders," said Andrew Potter, chief academic officer of Envision. "Ms. Gruwell's message of embracing diversity and reshaping self-image will empower our scholars to discover their own potential and forge a rewarding future, which quite possibly includes changing the lives of those around them."
Gruwell gained national attention during her teaching tenure at Wilson High School, where she inspired "at-risk" teenaged students to re-chart their futures. Against what seemed to be insurmountable odds, all 150 of her students graduated, and went on to become aspiring college students, published writers and catalysts for change. A documentary on Gruwell's students' experience was featured in the eduFILM screenings at South by Southwest, which took place March 9-12, in Austin, TX. Gruwell and her students have also appeared on numerous television shows, including Oprah and Good Morning America, and have earned dozens of awards, such as the prestigious Spirit of Anne Frank Award.
At NYLC, Gruwell will share her students' extraordinary journey – from frustration and despair to hope and promise – with stops at Anne Frank's House, Auschwitz and Capitol Hill. This thought-provoking presentation explores how tolerance and understanding can resolve or prevent conflict, and how one person can make an extraordinary difference. Her own examples of leadership and initiative will serve to inspire students to become "Catalysts for Change."
"I'm honored and excited to be speaking to the high-achieving students about daring to dream - and dream BIG - at the NYLC in Washington, DC. I look forward to meeting the wonderful students who take part in NYLC and hope to inspire them to take on leadership roles back home in their communities," said Gruwell.
Gruwell's expertise at empowering young people to activate their inner strengths is a fitting kick-off to NYLC – a leadership program with a 30-year track record of equipping students for success. This premiere seven-day educational conference enables high school students to explore their future through a curriculum of workshops, excursions and motivational guest mentors such as Gruwell. In the hands-on workshops, students learn tangible skills such as leadership, public speaking and critical thinking. Other program features include a career fair, breakfast at the National Press Club, interaction with members of Congress during a visit to Capitol Hill, and a social advocacy project in which students apply leadership skills to ignite change in their community. NYLC alumni, who have called the program "a game-changer" have gone on to public service positions on Capitol Hill, as well as launching successful careers in a variety of other fields.
NYLC takes place at the Bethesda Marriott near Washington D.C., over three sessions in June and July of 2015. Enrollment is currently open, but available seats are now limited. To enroll, visit http://www.envisionexperience.com/Leaders.
About Envision Experience
Since 1985, Envision Experience has served over 500,000 students in more than 145 countries, with empowering programs designed to impart the leadership and career skills necessary for success in today's competitive landscape. At the National Young Leaders Conference (NYLC), Washington, D.C. serves as a living classroom where students will join high-achieving peers from across the nation to discover the secrets of leadership, explore career interests, enlarge their perspective and hone the skills required to become an influential leader in the 21st century. For information about NYLC, visit http://www.envisionexperience.com/explore-our-programs/national-young-leaders-conference, or contact us via phone or email:
(800) 872-2952
NYLC(at)envisionexperience(dot)com