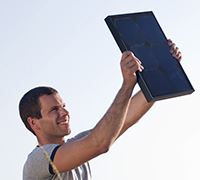 Large growth for utility scale solar capacity
(PRWEB) April 02, 2015
SPS is a solar company in California that has been on a mission to help homeowners reduce energy costs while limiting emissions. Recently on the 10th of February a report was done by the U.S Energy Information Administration (EIA) that explained expectations for the near future. Isaac Harris is a market analyst for SPS and elaborated on a specific prediction from the Short Term Energy Outlook. Isaac has been an expert in renewable energy for years and works to adjust SPS programs and business model to always align with current market changes.
The Short Term Energy Outlook from earlier this month composed by the U.S Energy Information Administration (EIA) states, "Although solar growth has historically been concentrated in customer-sited distributed generation installations, EIA expects that utility-scale solar capacity will increase by more than 60% between the end of 2014 and the end of 2016, with about half of this new capacity being built in California." Isaac has analyzed a handful of reports in the past and admits there are some things to be noted. "These reports are conducted by energy experts however are not always completely accurate. What they do show is where the market is heading and what people are involved with," explains Isaac.
Isaac assesses predictions for such large growth for utility scale solar capacity and explains what it means for end consumers in the next 19 months. Utility scale solar is nothing new in the market however the interest sparked by some of the countries largest companies is rather new. Major companies like Apple and Kaiser Permanente are stepping to the next level in solar energy production and moving towards utility scale capacity. "The uproar in production and popularity fuels a competitive market that provides end users and consumers with a better product at lower prices, because utility scale capacity is expected to grow, solar companies like ours must adjust to compete with the new options, and homeowners are the ones who will see benefits on their end of the deal," explains Isaac.
In the past Isaac and SPS has had to adjust to market trends and have found success with leasing programs over recent years. When Isaac and his team analyzed reports and noticed not all homeowners qualify for tax rebates from making a purchase, they opened up flexible leasing programs which was a great trend to follow according to Isaac. "Our solar company moves forward while matching popular market trends, and a great example was our introduction to leasing programs when the homeowners needed it most. We hope our moves to compete with utility scale solar will provide our consumers with unprecedented benefits," explains Isaac.