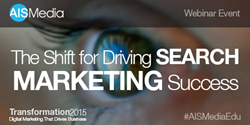 ATLANTA, GEORGIA (PRWEB) March 26, 2015
AIS Media, Inc. announces part 4 of 4 of the Transformation 2015 webinar series,"The Shift for Driving Search Marketing Success." It's time to change the way your SEO is managed. Join AIS Media Inc., CEO Thomas Harpointner, on Wednesday April 1, 2015 at 11:00 am (EST) for this eye-opening overview of the analytics, leads and sales metrics that keep marketing accountable for strong ROI management will appreciate. The agenda includes:

Importance of mobile search optimization
Google's quality score guidelines
Geotargeting is "the new cookie"
How to interpret abandonment and measure performance
Overlooked ways to lift SEO ranking
Details and Registration: http://bit.ly/transformwebinarLI
About AIS Media
AIS Media, Inc. is an Atlanta-based, award-winning strategic digital marketing agency. Founded in 1997, AIS Media has helped hundreds of clients amplify digital marketing performance including the world's top brands, companies and organizations. For more information on AIS Media, visit http://www.aismedia.com, like us on Facebook and follow us on Twitter.