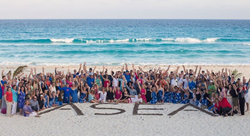 ASEA has established a wonderful series of events designed to provide world class training and notable experiences and fun for their leadership
(PRWEB) March 31, 2015
ASEA, LLC recently held their winter incentive contest at the Live Aqua resort in Cancun, MX. Trish & Bob Schwenkler joined about 150 others, including ASEA corporate personnel, for a wonderful mixture of fun, fellowship, relaxation, and world class training.
Trish, of OurGlobalHomeBusiness, says, "ASEA does it right and provides an opportunity for everyone from brand new business partners to the experienced MLM leaders to participate. The newer people get a terrific chance to mix and mingle and learn from some of the best in the MLM industry."
There were a number of memorable times during the 4 day event including dinner for the group on the beach with the blue ocean waves caressing the sand and sunset over the ocean, music, dancing, fun! Also choice of excursion trips including the Mayan ruins, snorkeling, golfing, fishing; beach volleyball, flamingo lessons, music, drinks in the pool, sun, sand, body surfing.
Bob Schwenkler says "ASEA has established a wonderful series of events designed to provide world class training and notable experiences and fun for their leadership. And it's not just the top leaders but there is a real focus on rewarding the emerging, new leadership as it is developing in the field."
Bob & Trish are co-owners of OurGlobalHomeBusiness Boise, ID, have been engaged in the wellness field for over 25 years. They are Independent Associate of ASEA, LLC.
ASEA, LLC is the world's one and only manufacturer of Redox Signaling molecule products and is located in Salt Lake City, UT.