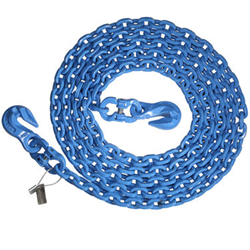 Urbana, IA (PRWEB) March 27, 2015
Growing sales and positive customer response to the company's new Grade 120 bulk chain products has resulted in additional products added to the category.
The high performance grade 120 chain is now available in tie down assemblies with clevis grab hooks, as well as three different sizes of grade 120 chain binders. All of the products are available for purchase online.
Category Manager Matt Mitchell says the expansion of all of the chain product lines has been extremely successful, and the process has given the company a chance to learn what customers are looking for in tie down products.
"The grade 120 chain tie down assemblies are the strongest available in the market today; we're hearing from a lot of customers interested in swapping out their lower grade 70 or grade 80 chains and moving right up to the grade 120," said Mitchell. "We're happy to be able to provide several options in lengths and diameters, plus chain binders, to meet their needs."
Mitchell says due to their high working load limits, the Grade 120 products are popular with customers hauling heavy duty equipment such as industrial or agricultural machinery. The increased strength comes from the chain's unique patented square link design which provides increased resistance to fatigue and bending.
"The Grade 120 chain offers about 20% more strength than the comparable grade 100 chain, and up to 50% more strength than the grade 80 chain," said Mitchell.
The Grade 120 chain tie downs are available in 9/32", 3/8", and 1/2" sizes, in 16', 20', and 25' lengths. Ratcheting load binders are also available in three chain sizes: 9/32", 3/8", 1/2".
About US Cargo Control
US Cargo Control is a leader in the cargo control industry, specializing in lifting slings, cargo control, rigging equipment and moving supplies. Focused on offering quality products, timely delivery, and an excellent customer experience, customers can purchase products on the company's website, USCargoControl.com or by phone at 866-444-9990.