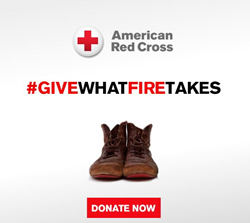 "1-800-BOARDUP is a proud American Red Cross Disaster Responder whose mission is to 'help people recover from one of the worst days of their lives.'"
ST. LOUIS, MO (PRWEB) March 27, 2015
March is the American Red Cross month. To support the cause, 1-800-BOARDUP has joined the campaign by helping to raise awareness and sharing its microsite to help fund Red Cross efforts.
To kick things off, the Red Cross launched a new social media campaign with the tagline #GiveWhatFireTakes in conjunction with its Home Fire Preparedness Campaign. The idea behind the social media campaign is to put emphasis on supporting the survivors of home fires and other disasters across the country.
"1-800-BOARDUP is a proud American Red Cross Disaster Responder whose mission is to 'help people recover from one of the worst days of their lives,'" said Beth Toenies, Vice President of Marketing and Process for 1-800-BOARDUP. "So it was a natural move for us to partner with the American Red Cross to serve people in their time of need."
The Red Cross is asking people to take action by purchasing symbolic items with monetary donations. For example, they ask donors to "help provide two blankets by donating $10" or "help provide clothing and shoes for a family by donating $100."
The Red Cross Home Fire Preparedness Campaign aims to reduce the number of deaths and injuries due to home fires by 25 percent over the next five years. This new social media campaign, #GiveWhatFireTakes, is helping to raise awareness and providing a call to action. It is also helping to support the efforts of Red Cross workers all across the country who are educating people about fire safety through door-to-door canvassing and installation of smoke alarms in some neighborhoods.
As of late January, hundreds of Red Cross workers in all 50 states and Puerto Rico have come together to produce the following results:

Installed 30,624 smoke alarms
Replaced batteries in 5,518 smoke alarms
Served 51,503 people and helped 13,945 households develop fire escape plans
Help spread the word and share with others what moved you to join the campaign on social media with the tagline #GiveWhatFireTakes. Together, we can make a difference.
Visit 1-800-BOARDUP's microsite to help support the campaign and donate to the cause.
1-800-BOARDUP is a values-focused fire restoration company that provides comprehensive recovery services to fire victims in need. While each office is independently owned and operated, 1-800-BOARDUP is the largest franchise company that specializes in emergency response services for disasters.
###