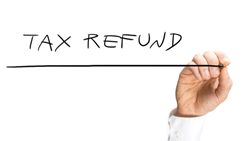 Rockville, MD (PRWEB) March 26, 2015
More than seven out of 10 U.S. tax filers get a federal refund each year, according to the IRS, with the average amount over the past few years about $2,800(1). While some people may see that money as a bonus and a reason to splurge, there are smart ways to put a tax refund to use to improve financial health.
OpenSky®, known for providing tools and resources to help consumers build credit, offers some suggestions and tips on how to put tax refunds to good use:
Consumers who have credit card debt may want to use their refunds to pay it down or pay it off—the highest interest debt first. That can save money paid toward interest and can also improve a person's credit, since a high percentage of debt compared to available credit may negatively impact credit scores.
Everyone should consider establishing an emergency fund. A Bankrate.com survey(2) published in January reports that two out of three people say they wouldn't have the money to cover unexpected expenses outside of their monthly budget, such as $1000 for medical expenses or a $500 car repair. Homeowners, especially, may want to think about establishing a fund to make needed or unexpected repairs—devoting some money each year toward maintenance will pay off in the long run. A house is a big investment; a home in good condition can command top dollar when it's time to sell.
Individuals and families can also use tax refunds to add to their savings. Everyone has goals they hope to achieve, if only they have enough money one day. According to the National Retail Federation's 2015 Tax Returns Survey (3), nearly half of respondents expecting a refund said they plan to put their money into savings. Carrying through on that plan will help their financial picture.
"A tax refund is the money you worked hard for—you're just getting it late," says Nick Bryan, president of OpenSky, a business line of Capital Bank, N.A. "Think of it as an opportunity to invest in your financial success."
About OpenSky
OpenSky is a business line of Capital Bank, N.A. that focuses on delivering credit building tools and resources to help consumers establish or re-build their credit. OpenSky credit card products are designed to be easy to get, easy to use and offer variable credit lines, allowing consumers with any financial needs to build a solid credit history. The premiere product, the OpenSky Secured Visa Credit Card, has been recognized by Credit.Net as one of the best credit cards for 2014 that build credit fast. With more than 50,000 cardholders and growing, OpenSky is committed to helping consumers meet their financial goals through the power of strong credit and credit knowledge.
For more information visit http://www.openskycc.com
About Capital Bank
Capital Bank, N.A., is a leading private bank in the Washington, D.C. metropolitan area that offers a range of services encompassing cash management, commercial lending, consumer credit and residential mortgage/Veterans Administration mortgage loans. Capital Bank's core commercial banking and lending business includes two rankings by the U.S. Small Business Administration (SBA), ranked number two among community lenders and in the top ten among all lenders in the Washington Metropolitan District for loan volume for Fiscal Year 2014. With double-digit asset growth over the past three years, Capital Bank has more than $600 million in assets and is well positioned to fulfill its culture of collaborative partnerships and solutions for area businesses and consumers nationwide. For more information, visit http://www.capitalbankmd.com. Member FDIC. An Equal Housing Lender.
CAPITAL BANK, PARTNERS IN YOUR VISION
Sources:
1. IRS, December 26, 2014, http://www.irs.gov/uac/Dec-26-2014
2. Budgets can crumble in times of trouble, Claes Bell, January 7, 2015 http://www.bankrate.com/finance/smart-spending/money-pulse-0115.aspx
3. Americans planning to save, not splurge, with tax refunds this year, according to NRF survey, Treacy Reynolds, February 19, 2015 https://nrf.com/media/press-releases/americans-planning-save-not-splurge-tax-refunds-this-year-according-nrf-survey