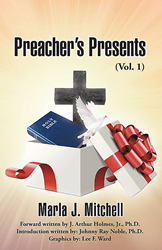 I want readers to be encouraged, enlightened and inspired, like I have been, to attend church regularly to be spiritually fed.
Columbia, SC (PRWEB) March 27, 2015
CrossBooks is pleased to announce the nationwide release of Preacher's Presents (Vol. 1), a unique anthology of sermon notes from African American churches compiled by first-time author and seasoned educator Marla J. Mitchell. A preacher's kid herself, she writes "from a pew perspective," organizing pulpit insights she has notated throughout the years so that pastors and Christian educators may use them to inspire afresh future sermons and Sunday School lessons for new audiences.
Preacher's Presents is characterized by the African American style of preaching that Mitchell grew up hearing and hints at the historical role of the gospel within that community. Each sermon note entry (or "Present") is introduced with the sermon's title, its scriptural text, and the name of the preacher who delivered the lesson. Among those entries is "Church Birds that Steal Spiritual Blessings" by the author's father, Reverend R. Nathaniel Mitchell who preached at Mount Sinai Baptist Church in Silverton, Ohio, for more than 30 years. Among the 79 categorized themes within the book are morality, values, mission and evangelism.
"As a preacher's child, I listened to thousands of sermons and eventually would bring a red spiral journal to church, writing notes that I felt were pertinent to me in regards to the sermon," said Mitchell. "Taking notes gave me a better insight on the Word of God. I would go back and reread them and in turn realize I was reading the Bible more and learning more about how to apply the Word to my daily life. I want readers of Preacher's Presents to be encouraged, enlightened and inspired, like I have been, to attend church regularly to be spiritually fed."
Dr. Johnny Bernard Hill, associate professor of Philosophy and Religion at Claflin University, said, "Mitchell, a seasoned educator and faith leader, has provided the Church and larger society with an extraordinary gift for reflecting on powerful spiritual truths celebrated and proclaimed by distinguished preachers and pastors known across the nation."
Henry and Devonne Dixon, Jr., pastors of Overflowing Fountain World Outreach Ministries, added, "If you need a word from God, Preacher's Presents is your symposium in a book."
Preacher's Presents (Vol. 1) is now available online through CrossBooks on LifeWay.com, as well as Amazon, Barnes & Noble, and other major retailers.
Marla J. Mitchell has more than two decades of experience in the Special Education field and is the CEO of EduCare Unlimited LLC. She holds degrees in Special Education (BS with three added certifications; Central State University) as well as Education Administration (M.Ed; Miami University) and is pursuing a doctorate in Curriculum and Instruction from The University of South Carolina. Among her other interests are public speaking and work as a voiceover artist. A pastor's daughter, Mitchell was raised in the church. Preacher's Presents is her first book.
An imprint of B&H Publishing Group, CrossBooks offers a unique blend of traditional and self publishing. It serves a variety of Christian writers, from established authors to Christian leaders and first-time authors. As a ministry of LifeWay Christian Resources, CrossBooks is committed to unwavering principles of excellence and Christian faith. For additional information, please visit http://www.crossbooks.com.