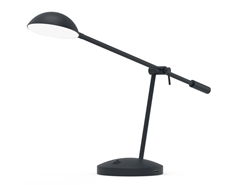 Santa Barbara, CA (PRWEB) March 27, 2015
Mighty Bright, designer and manufacturer of innovative LED lighting products, is pleased to introduce the LUX Lincoln LED Task Light. The LUX Lincoln is a new and improved version of the popular LUX Dome, an original light in the LUX line of LED lights. The Lincoln can be seen at http://www.lux-led-lights.com.
The new LUX Lincoln LED Task Light incorporates utilitarian functionality in a traditional, familiar form. Designed in the same style as the classic LUX Dome LED Task Light, the Lincoln has an additional brightness setting and two integrated USB ports in its base. The LUX Lincoln conveniently doubles as a desktop or bedside power station, charging phones, tablets, and other devices. Casting bright white, energy-efficient light, the Lincoln's integrated LEDs have two brightness levels for increased user comfort, and never require a replacement bulb. The Lincoln's timeless style makes it ideal for office spaces, residential interiors, and hospitality properties. "The tremendous success of the LUX Dome confirmed the demand for a high-quality, elegant light," said Michelle Haas, Marketing Manager. "The LUX Lincoln capitalizes on that success, while integrating innovative features that have come to define the LUX Line."
LUX Lincoln LED Task Light features:

Bright, efficient LEDs cast 500/350 (high/low) lumens of light
Flicker-free, high quality LEDs
Two integrated USB ports
Jointed, adjustable arm
Color temperature: 3000K
Color Rendering Index: 85
Input Voltage: 100-240
Power Consumption: 10 W
Efficiency: 50 lm/W
50,000 hours of continuous illumination
ADA compliant on/off rocker switch
LUX LED Lights by Mighty Bright is the contemporary solution for task lighting. Utility and design are paramount for LUX LED Lights — fit a LUX Light into any space for an exquisite focal point or to brighten a dark corner. High performing LUX LED task lights reduce energy usage while enhancing spaces with exceptional style. Streamlined and sophisticated, LUX LED Lights are functional, eco-friendly and embody a simple aesthetic elegance, compromising neither form nor function.