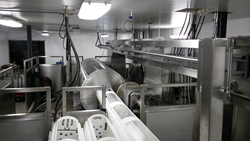 My first impression upon seeing the machine was that it was much more compact than I had envisioned. My next thought was why isn't anyone else doing this?
White Pigeon, Michigan (PRWEB) March 27, 2015
High Pressure Pasteurization (HPP) is a new technology that has gained rapid adoption globally to help food manufacturers and distributors extend shelf life of all natural products.
The Next HPP 175L, 350L, and 525L are identical except the vessel and frame length. That means common parts and operations across all platforms. Common baskets, intensifiers, plugs, pumps, everything - except the frame and vessel length. Engineered to be simple.
"The Next HPP equipment has the longest vessel warranty in the industry by design. Customers will have a significant advantage in the marketplace as Next HPP continues to provide solutions that drive down the costs of HPP processing", states Eric Lockovitch VP of Business Development at Next HPP.
Next HPP Machines standard:

Plug compatible 386mm (15.2") vessel internal diameter allowing equipment owners to mix system sizes throughout their company while using common material handling.
A simple design that increases safety and ease of maintenance
Fully automated material handling with built-in product traceability which enables customers to meet tough regulatory standards while running various product cycles
"My first impression upon seeing the machine was that it was much more compact than I had envisioned", stated John Latella, Co-CEO/General Counsel Garden Fresh Gourmet. "My next thought was, why isn't anyone else doing this"?
The Patent Pending design reduces the footprint of the frame by eliminating the large metal blocks that go behind the plug and against the back of the frame. This is accomplished by inserting the plugs into the vessel prior to the vessel being inserted in the frame. What is totally out of the box is integrating the Vessel, Plug and Intensifiers into a single movement that moves in unison, thus reducing the amount of high pressure components and points of failure.
Stay Tuned at NextHPP.com and "unlimit your process".
To register for our North American Fly In at our Showcase, visit our NextHPP.com
About NextHPP.com
Next HPP, LLC is committed to design, develop, and manufacture a cost effective and innovative High Pressure Processing (HPP) machine for commercial and industrial applications. The Next HPP design and manufacturing team brings together the best proven solutions by some of the leading companies in the world today in the fields of High Pressure Tubing and Fittings, Hydraulic Solutions, Controls and Automation, Intensifiers, ASME U3 Design and Compliance, ASME U3 component manufacturing. handlings and baskets.