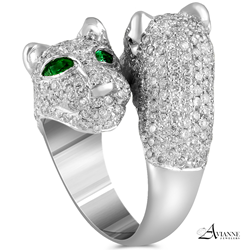 New York, NY (PRWEB) March 27, 2015
Entering the season of new beginnings, the master jewelers are excited to introduce Avianne & Co.'s Wild Cats collection. This season's must have accessory is a one of a kind collection inspired by the persona of three different wild cats; the fast and furious cheetah, wild and exotic leopard and the queen of the jungle herself, the tigress.
Avianne & Co's Polygress Ring is a two headed tiger ring representing strength and power. This ring is crafted in 18K white gold and paved with glamorous white diamonds, which total to 4.50 carats. The eyes of the tiger are set with two lovely deep green emerald gemstones giving it that fierce final touch.
The Cheetah Ring symbolized fearless, crafted in both 14K yellow and rose gold, the intensity in the eyes of the cheetah is created by setting two very small emerald and red ruby gemstones which totals to 0.06 carats.
Lastly, the Leopard, this ring is beautifully adorned with white diamonds totaling to 0.55 carats. Each stone are handset inside the pin holes giving it live-like leopard prints to represent your tenacity and style.
The collection includes three rings uniquely designed and crafted with the best quality gold and diamonds. The Wild Cats Collection starting price is $839.00 all items are available at Avianne & Co.'s store front or on website avianneandco.com