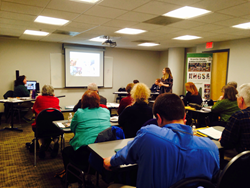 Granite State Ambassador training is for people who enjoy sharing their passion for New Hampshire with others and can volunteer a few hours each month at visitor centers and events around the state. - Gretchen Ziegler, NHGSA board chairperson
Manchester, NH (PRWEB) March 27, 2015
NH Granite State Ambassadors is hosting two guest service certification programs this spring. The first is scheduled for April 13-14 at NH Public Television in Durham, with the second scheduled for May 18-19 at Mill Falls at the Lake in Meredith. The two-day training includes 14 comprehensive hours of learning through presentations and conversation with New Hampshire tourism industry professionals. Each attendee receives literature and samples, a tour of the host location, lunch and snacks, and upon graduation becomes a certified "Granite State Ambassador" (GSA). The goal of the Granite State Ambassador certification training is to reinforce the tools and knowledge needed to meet and exceed the expectations of guests and support the authentic culture of New Hampshire, its people, and its products.
GSA training is well-suited for people who enjoy sharing their passion for New Hampshire with others, want to learn more about the state, and can volunteer a few hours each month. Volunteer opportunities include visitor centers such as the Discover Portsmouth Center, Manchester-Boston Regional Airport, the State House, state welcome centers including the Seabrook Visitor Center, chambers of commerce including Dover, Pemi Valley, Concord and Manchester, and private visitor centers run by associations such as the Lakes Region Tourism Association and Monadnock Travel Council. GSAs also volunteer at a variety of events in support of the NH Division of Travel & Tourism Development. Industry personnel, such as those working in chambers, hotels, attractions, restaurants and other hospitality venues can also participate in the training to enhance their current skills.
The certification fee is $40, and includes all materials, lunch both days, and snacks. To register, visit nhgsa.com and click "Training" in the top navigation bar. Registration closes one week prior to the beginning of class.
Certified GSAs have numerous opportunities each year to reinforce certification and update skills by participating in activities, monthly tours of tourism properties, special events and specialized training. According to Gretchen Ziegler, chairperson of NH Granite State Ambassadors, "It's fun and a great way to meet others who live in New Hampshire or are visiting and want to learn more."
ABOUT NH GRANITE STATE AMBASSADORS
NH Granite State Ambassadors is a 501(c)(3) non-profit organization that has been providing training, management and service to New Hampshire's tourism industry since 1996. It adds value to state agencies and travel- and tourism-related businesses through a training and support network that sustains and enhances the New Hampshire experience. The award-winning organization has certified more than 1400 residents and employees who staff visitor centers and special events around the state; each year, volunteers donate more than 18,000 hours and assist well over 110,000 guests. Key partners include Manchester-Boston Regional Airport and the NH Division of Travel & Tourism Development. To learn more, visit nhgsa.com.