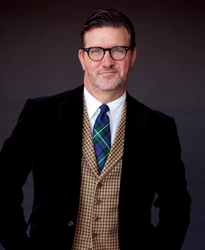 San Francisco, CA (PRWEB) March 26, 2015
San Francisco interior designer Scot Meacham Wood is thrilled to announce his participation as a window display artist in the seventh annual LEGENDS 2015 design event. In response to the event's theme of Where Muses Dwell, Scot has selected Shakespeare's Henry V as his main source of inspiration. Drawing from the luxurious medieval banquet halls as depicted in classic Hollywood films, the designer plans to create a display that shows the glamour of Henry V's times. The designer will stay true to his tailored, European aesthetic, incorporating his signature SMW Home tartan fabric into the design.
La Cienega Design Quarter's LEGENDS event is a three-day long design event featuring keynote panels, cocktail parties, receptions, book signings, personal appearances and trunk shows. The largest event of its kind on the West Coast, LEGENDS has drawn over 60,000 attendees and garnered over 130 million media impressions in 2014 alone.This year, 60 designers will transform the windows of LCDQ member shops, showrooms, and galleries to the theme of this year's event, Where Muses Dwell.
Scot's window will be on display at the La Cienega Design Quarter from May 6-8, 2015. For more information on the LEGENDS event, please visit http://lcdqla.com/legends-2015/.
About Scot Meacham Wood
Native to the South but rooted in Scotland, Scot Meacham Wood is recognized for both his timeless design and captivating persona. Pulling from his cultural background and 13 years of experience working with Ralph Lauren, Scot has created an influential style that he describes as a combination of gracious 'expected' with some whimsical 'surprise.' Established in San Francisco, the respected designer maintains a strong presence in the design industry as well as the online community. Thanks to his European style and Southern hospitality, Scot Meacham Wood can certainly light up a room.