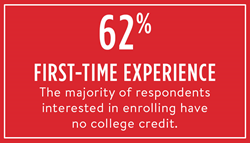 Sixty-eight percent workers identified a better salary as their primary motivator for a degree.
Manchester, NH (PRWEB) March 27, 2015
To help employers better understand key factors that influence employees when considering a college education, College for America at Southern New Hampshire University commissioned a research firm to survey 400 working adults and find out what they have to say about reentering the world of school.
The two-page executive brief of the survey, "What do your employees really think about going back to school?" is available for download here: http://www.collegeforamerica.org/higher-ed-employee-survey
From the survey, it was revealed that a majority (68%) of respondents said a bigger salary is one of their biggest priorities by a large margin, with the opportunity to change jobs trailing at 48% and personal fulfillment at 28%. Also, top-ranked decision factors for choosing a degree program include cost and flexible schedule (80% agreed that they were important or most important). New long-term career opportunities were also top considerations with 72% identifying them as important or most important.
The survey results also include what kinds of schools employees would consider attending, how many are encouraged to earn a degree, tuition assistance awareness, the best ways to encourage employees to go back to school, and more. For the full results, visit http://www.collegeforamerica.org/higher-ed-employee-survey
About College for America at Southern New Hampshire University
College for America offers affordable, workforce-applicable higher education to working adults by partnering with employers nationwide. Since its launch, CfA has enrolled more than 1,000 students from more than 70 employers, including the University of Pennsylvania Health System, McDonald's, the Gap Inc., Anthem Blue Cross Blue Shield, and Goodwill International.
In 2013, CfA became the nation's first competency-based, fully accredited higher education provider to be approved for federal financial aid, independent of the traditional credit hour model, for its associate's degree program. In May 2014, the school announced the approval of the first nationally available, accredited $10,000 bachelor's degree in the field of communications.
Southern New Hampshire University is an accredited, nonprofit, private university with a focus on student success and a reputation for innovation in higher education. SNHU was named one of the "50 Most Innovative Organizations in the World" by Fast Company magazine in 2012 and is one of the fastest-growing nonprofit providers of online higher education in the country. The university's home is a 300-acre main campus in Manchester, NH, and it offers more than 200 undergraduate and graduate online degree programs, five continuing education centers across Northern New England, and the College for America degree program for working adults and employers.