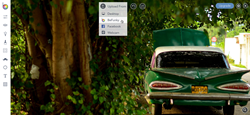 With BeFunky, you can turn your photo into something more than your camera can capture.
Portland, OR (PRWEB) March 26, 2015
BeFunky (http://www.befunky.com) today launched the next generation online photo editing suite, with a new-and-improved UI/UX experience that makes BeFunky the platform of choice for art and photography enthusiasts. BeFunky's latest redesign, which includes enhanced image processing speeds, improved art effects, a new home for inspiration, and more, makes it easier than ever for photographers to turn their photos into something more than their camera can capture.
BeFunky's redesign boasts a highly intuitive, streamlined user interface that brings hundreds of new tools, effects, and overlays together in one application. This is the next generation of user experience for photo-editing software: think bigger thumbnails and previews and faster load and application times. Thanks to dramatically improved processing speeds, users can create gorgeous photos in half the time.
As part of its redesign, BeFunky also features the biggest and best collection of digital art effects on the web, with hundreds of photo effects in dozens of categories, including tintype, Cartoonizer®, old photo, stenciler, instant, and watercolor. These effects allow users to transform a favorite snapshot into an oil painting, a cartoon-style portrait, an old-fashioned daguerreotype, or an eye-catching piece of pop art. Impeccable clarity and luminance ensures that users' photos are as memorable as the moments they capture.
With more than 45 million active visits every month, BeFunky is the world's most powerful, intuitive, and immersive photo-editing suite. BeFunky runs on desktops, tablets, and mobile devices, giving users an unparalleled photo editing experience wherever they are. A complete art and photo editing suite that's ideal for social media mavens, professional artists, and everyone in between, BeFunky doesn't require any special skills or technical know-how.
Availability and Pricing
It's free to use BeFunky's editing and effects tools. For $4.95 a month, users can upgrade to BeFunky Plus, which offers access to hundreds of additional features and other perks.
Supporting Resources
http://www.twitter.com/befunky
http://www.facebook.com/befunky
http://www.youtube.com/BeFunkyTV
BeFunky Press Kit
About BeFunky
Founded in 2007, BeFunky pioneered the first online photo-editing toolset out of a desire to integrate art and technology. BeFunky's photo editing suite for web and mobile provides a fun, easy-to-use, multiple platform tool letting you turn ordinary pictures into incredible works of art. With hundreds of features on the BeFunky website and mobile device application, anything from fixing common photo problems like overexposure, digital noise, and poor color quality to dazzling effects is at your fingertips, anytime, anywhere. Whatever you can imagine, BeFunky can help you create.
BeFunky has offices in Portland and San Francisco. For more information, please visit http://www.befunky.com.