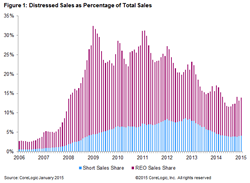 Michigan had the largest share of distressed sales of any state at 23.1 percent1 in January 2015
Chicago, IL (PRWEB) March 25, 2015
Lenders like Peoples Home Equity were pleased to read in a recent Corelogic article "that Distressed Sales Accounted for 14 Percent of Total Home Sales in January 2015." This decline marks continued improvement in the housing market and bodes well for further price growth.
According to this March 25th article by Corelogic, "the share of distressed home sales "has fallen on a year-over-year basis every month since July 2011." Month-over-month "a 3.1 percentage point drop from January 2014 and a 0.8 percentage point increase from December 2014." To summarize the total 14% of distressed home sales, "REO sales made up 9.9 percent of total home sales in January 2015 and short sales made up 4.1 percent." Distressed sales reached their peak of "32.4 percent of all sales in January 2009, with REO sales making up 27.9 percent of that share."
Regionally, "Michigan had the largest share of distressed sales of any state at 23.1 percent in January 2015, followed by Florida (22.3 percent), Illinois (20.6 percent), Maryland (18.9 percent) and Connecticut (18.8 percent). Nevada experienced a 9.1 percentage point drop in its distressed sales share from a year earlier, the largest decline of any state. California experienced the largest improvement from the peak distressed sales share of any state, falling 57.1 percentage points from its January 2009 peak of 67.4 percent. While a few states stand out as having high distressed sales shares, very few states are even close to their pre-crisis distressed sales share. North Dakota, The District of Columbia and Hawaii are the only states within one percentage point of their respective pre-crisis distressed sales shares."
Peoples Home Equity has many branch locations scattered across the America. The lender believes Michigan shows a lot of promise for bargain priced homes. At the same time, opportunities are found elsewhere in Florida for vacationers or retirees looking to purchase on the cheap. Or for those that work in Chicago, looking to buy a place instead of continuing to rent. North Dakota, D.C. and Hawaii are within one percentage point of their pre-crisis levels for their respective reasons. North Dakota is undergoing an oil boom, D.C. always has a strong housing market, and Hawaii is an island; islands typically retain high property values due to scarcity of land.
If thinking to purchase a property and are in need of a home loan, consider speaking to a Peoples Home Equity loan officer today at: 262-563-4026