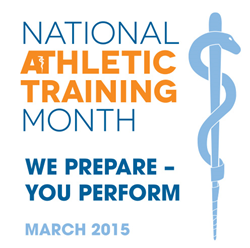 Buffalo, NY (PRWEB) March 31, 2015
The Buffalo Bills athletic training staff has been recognized by peers across the country for distinguished service to its club, community, and the athletic training profession. The New York State Athletic Trainers' Association (NYSATA) is proud to recognize such a distinction and extend congratulations to these NYS athletic trainers - especially during March as part of National Athletic Training Month (NATM)! The Ed Block Courage Award for NFL Athletic Training Staff of the Year is voted on by the Professional Football Athletic Trainers Society (PFATS) membership and given in conjunction with the Ed Block Award Foundation. This marks the second time the Buffalo Bills athletic training staff has received this honor since the award's inception in 1985.
Please help us in congratulating the Buffalo Bills athletic training (AT) staff - head AT Bud Carpenter (30 seasons) and assistant ATs Greg McMillen (19 seasons), Chris Fischetti (13 seasons), Shone Gipson (11 seasons) and Jon Hernandez (1 season) – who were formally recognized at the 37th annual national Ed Block Courage Awards Foundation ceremony earlier this month, on March 16, 2015, in Baltimore, MD.
This honor comes just one year after Buffalo Bills assistant athletic trainer, Greg McMillen, was named the recipient of the PFATS 2013 AFC Tim Davey Assistant Athletic Trainer Award, an award established in 2010 in honor of the former assistant AT whose NFL career spanned 33 years.
Aside from these national AT awards, the Buffalo Bills help to support athletic training services and AT education in western New York and across the state. Thanks to a grant funded by both the NFL Foundation and the Ralph C. Wilson Foundation, athletic training services were provided for varsity football games at 12 high schools in western New York during the fall 2014 season and is proposed to continue again this fall. This grant program was started to help fill gaps in appropriate medical coverage for those schools who do not currently have access to a certified athletic trainer and help advocate for the inclusion of an AT in school budgets.
Additionally, the Buffalo Bills organization teams up with NYSATA by funding an annual undergraduate athletic training student (ATS) scholarship in honor of long-time head athletic trainer Ed Abramoski, who was with the Bills organization from 1960 until he retired in 1997.
NYSATA, founded in 1976 and incorporated in 1989, stands to advance, encourage and improve the profession of athletic training (AT) by developing the common interests of its membership for the purpose of enhancing the quality of healthcare for the physically active in NYS. Athletic training is practiced by certified athletic trainers (ATs), who have expertise in the assessment, emergency management, rehabilitation and prevention of acute and chronic sport-related injuries, illnesses and conditions, including concussions. Comprised of over 1,200 certified and practicing athletic trainers, NYSATA is the state-wide affiliate of the regional EATA and District Two of the NATA.