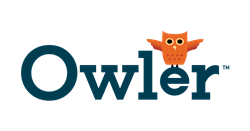 a full 75% - or three out of four employed Americans - do things to be competitive at work, with a majority (59%) saying they need competitive intelligence to succeed at their job
SAN MATEO, CALIFORNIA (PRWEB) March 26, 2015
Owler, the online and mobile source of free business competitor information, announced the results of its American Competitive Instincts Survey. The findings were released as the company launched its Owler Competitive Intelligence Reports to keep business professionals up to date on how their company stacks up against its competitors. According to the survey, conducted by Harris Poll on behalf of Owler to determine employed Americans' attitudes on competitiveness – a full 75% - or three out of four employed Americans - do things to be competitive at work, with a majority (59%) saying they need competitive intelligence to succeed at their job.
Among those whose households make $100,000 a year or more, a whopping 81% admitted they (take specific actions to be more) competitive on the job, as compared to just 75% of the employed population as a whole. They also are more likely than any other group of people to say they:

Work harder than their colleagues (58%)
Read/learn about companies that compete against their own (21%)
Participate in office competitions (like March Madness) (16%)
Use a bigger vocabulary (13%)
When it came to what activities employed Americans have undertaken to be competitive, the most popular were:

Getting to work early – 47%
Work harder than my colleagues - 46%
Stay at work late - 40%
Subscribe to email news alerts in my industry - 20%
Read/learn about companies that compete against mine - 17%
Participate in office competitions - 12%
Use a bigger vocabulary - 11%
It is worth noting that those whose household income is $100,000 a year or more were no more likely than any other income bracket to have romantic encounters with people who could help their career – with only 1% stooping to such tactics across any income level.
People Find it Tough to Compete at Their Best
Over two in five employed Americans (43%) admit they are frustrated by the challenges in being competitive. The number one complaint, voiced by nearly one out of five Americans (18%), was that there is so much information out there about their industry that they do not have enough time to go through it to help them compete at work.
A majority of employed Americans (59%) say that they need competitive intelligence, for example a report that provides key information within their industry to help them succeed at their job. And over two in five (44%) actually went so far as to say that such a report would be "life changing" in the following ways:

Make me successful – 26%
Improve my self-worth – 15%
Let me sleep well at night – 12%
Make me like my job – 11%
Be nicer in general – 8%
Make my parents proud – 7%
Save my career 7%
Help me buy a house or car 5%
Make me likeable – 4%
Be nicer to my children – 3%
Save my marriage - 1%
"This survey clearly shows what our own customers tell us time and time again – smart, assertive business professionals really want to stay on top of their game and those who do so tend to be more successful," said Jim Fowler, Owler CEO. "That's why we offer our full Owler services, including the new Owler Competitive Intelligence Reports for free – because no working professional in America can afford to be without them. Each of our 12 quarterly reports is designed to provide clear and actionable competitor information by drilling down on one unique aspect of their competitors' activities. Once everyone can 'out-Owler' everyone else – those without Owler will be quickly left behind."
Methodology
This survey was conducted online within the United States from February 23-25, 2015 among 2,019 adults ages 18 and older, by Harris Poll on behalf of Owler via its Quick Query omnibus product. This online survey is not based on a probability sample and therefore no estimate of theoretical sampling error can be calculated. For complete survey methodology, including weighting variables, please contact Jess Nelson at jess@bospar.com.
ABOUT OWLER
Owler, the online and mobile source of free business competitor information, gives users just what they want and doesn't bog them down in what people don't want, putting its users right in the middle of their competitive environment. The company was started by serial entrepreneur and crowdsourcing pioneer Jim Fowler, who sold Jigsaw sold to Salesforce in 2010 at $175 million. The company is backed by Norwest Venture Partners and Trinity Ventures.