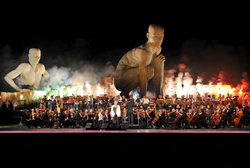 We are simply thrilled to be a part of it once again - says Elena Ferri, Chief Vacation Designer at Italy's Finest - We have been designing luxury itineraries climaxing with Bocelli's concert for the last 10 years
Firenze, Italy (PRWEB) March 28, 2015
On Sunday August 2nd 2015 thousands of fans, opera lovers and connoisseurs will assemble in breathless expectation for the 10th edition of Andrea Bocelli's Teatro del Silenzio concert in Tuscany. This stunning natural open-air amphitheater will once again set the scene for a uniquely magical evening. For the occasion a Florence-based private travel designer, Italy's Finest, will present a small party of guests with the opportunity to witness this inspiring performance and spend four memorable days relishing Tuscan excellence.
The theater's ethereal landscape will stand still in reverence, as director Zubin Mehta leads Tuscany's choicest orchestra and choir through the first notes of Turandot's heartrending music, and Andrea Bocelli's sublime voice fills the air. The full concert program has not yet been finalized: the event always includes other acts with the scheduled one, these will be annnouned as the time approaches.
Italy's Finest's guests will enjoy an unending sequel of enlightening cultural visits, scrumptious meals and award-winning wines, and behold Andrea Bocelli's virtuoso performance accommodated in prime executive seats. "We are simply thrilled to be a part of it once again" says Elena Ferri, Chief Vacation Designer at Italy's Finest "We have been designing luxury itineraries climaxing with Bocelli's concert for the last 10 years".
Guests will have the opportunity to enjoy:

Executive seating and access to the hospitality area at Andrea Bocelli's concert within the striking premises of the Teatro del Silenzio
Deluxe accommodation at the lovely Villa San Paolo, surrounded by rolling hills and luxuriant countryside. The Villa is located near exquisite San Gimignano, world-famous city of towers
Private viewing of the stunning brand new Antinori cellars, a futuristic building and veritable sanctuary of award-winning premium wine labels
Countless tantalizing gastronomic experiences, including tasty home-made specialties in Monteriggioni, Volterra and San Gimignano's best trattorias and sublime delicacies at Badia a Passignano's famed Michelin-star restaurant
Discovering Siena, its marvelous center and artistic treasures, led by an art-historian. Exploring exquisite Monteriggioni, San Gimignano and Volterra, genuine Tuscan jewels, and dining in the towns' finest restaurants.
The event is tailored for a small intimate group in order to ensure each participant fully enjoys the unique experience. Please visit http://www.italysfinest.com/portfolio/andrea-bocelli-tuscany/ for details or contact us at info(at)italysfinest(dot)com for further information or to request a personalized Bocelli Tuscan itinerary.
About Italy's Finest
Italy's Finest is a private travel designer specialized in creating ultimate custom-made vacations and finely crafted events. Committed to fully satisfying each client's dream, Italy's Finest supplies highly creative solutions and flawless all-round service, providing unique, authentic, unforgettable Italian experiences.
Contact Information
Margherita Panconesi
margherita(at)italysfinest(dot)com
Italy's Finest s.r.l.
http://www.italysfinest.com
+39 055 0948273