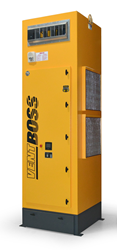 STERLING HEIGHTS, Michigan (PRWEB) March 26, 2015
VentBoss (http://www.ventboss.com) by RoboVent announces the S600 Series of flexible, general ventilation collectors. The unit, which is compact and incredibly versatile, takes up very little floor space and is plug-n-play ready; making it easy for you to clean the air in your plant efficiently. The VentBoss S600 Series Flexible General Ventilation collectors are a perfect solution to facilities with low-to- medium production welding operations.
A few key points of the S600 Series:

Heavy Duty Construction
Incorporated Motor, Blower, and Automatic Controls
Self-cleaning Filters
Simple Installation
Ability to utilize multiple units for larger areas
Clean air plays a critical to maintaining high employee morale, lower porosity in welds, and can aid in establishing your company as a leader in your industry. The VentBoss S600 Series can also help you increase your bottom line with simple, flexible, and clean air solutions! Learn more today at http://www.ventboss.com.
About The Company
During the past 25 years RoboVent has established itself as the leader in the field of air filtration with highly efficient, reliable, and cost-effective systems installed at major manufacturing operations across North America. Applications include welding, cutting and metalworking; dust and lubricant mist collection; as well as general ventilation. At its core, RoboVent is an environmental problem solving company for process systems. Their expertise and resources in collecting, filtering and recycling contaminated air can be applied to almost any process in the manufacturing environment. For more information, visit http://www.RoboVent.com.
VentBoss by RoboVent is innovative lines of high-quality, portable and stand-alone fume and dust collector units. Durable yet affordable, VentBoss products are built to stand strong and work hard. For more information, visit http://www.ventboss.com.
####
Contact:
Stuart Pollak
Marketing Director
614-498-2227
stuart(dot)pollak(at)robovent(dot)com