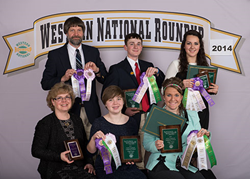 "The best training comes from going to farms and practicing with various classes of animals"
(PRWEB) March 27, 2015
Earlier this year, the Rockingham County 4-H Livestock Judging Team emerged victorious at the Western National Roundup competition held in Denver, earning the overall team title in this annual event.
Four members of the 12+ member team travelled to the Mile High City in January to compete: Bailey Carpenter, 16; Hannah Craun, 16; Caley Ellington, 17; and MaKalyn Nesselrodt, 17. Together, they judged ten classes of animals, including beef cattle, hogs, sheep and meat goats, with their individual scores tallied to arrive at the team total that earned them the win. The Rockingham County team competed against 25 teams, representing 24 states and Canada.
Judging livestock requires extensive knowledge of different breeds and classes within each species, as well as keen observation skills to determine the best animals in a group. Articulate oral presentations of the rationale for their assessments of the animals they judge are also a critical component of the judging process. Learning how to judge takes years of practice: each of these four youngsters comes from a farming family, giving them a strong foundation of knowledge, and each has actively trained in livestock judging for between five and ten years.
"The best training comes from going to farms and practicing with various classes of animals," says Farm Credit of the Virginias senior commercial credit analyst Dave Walker, who shares coaching duties with co-coach Tammy Craun. "To prepare for the Denver contest, we had practice once a week from late August until the contest in early January." The team also competes in regional and state contests to gain experience, and in fact earned their place in the national competition by first winning the Virginia State Contest in June 2014.
By winning the national contest, the Rockingham team has earned the opportunity to travel to Scotland and tour agricultural and historic sites of interest. They also have the option to compete in the Royal Highland Livestock Judging Contest as a team or individually; however, participating in this competition precludes competing in certain other U.S. contests, so only MaKalyn plans to join the international contest. Individual winners at the Western National Roundup can also earn money toward college expenses: both Caley and MaKalyn have $250 waiting for them if they pursue an animal science degree at Colorado State University, which hosted the Denver event.
Livestock judging competitions are about more than winning prizes, though: these young 4-H members are learning valuable life skills that will help them succeed in their future college endeavors and professional careers, including observation skills, decision making, public speaking and teamwork.
"I think the skills gained from competitive livestock judging help develop leaders in whatever career path participants chose to follow," says Walker, who himself competed in livestock judging in his younger days with then-teammate Craun. "Just as an example, MaKalyn has already started classes to become a nurse and the observation, decision making and teamwork skills she's developed through judging will certainly be useful in her nursing career."
Walker cites another benefit of competing in livestock judging. "Travelling to distant contests forces these young people to learn how to manage their time and be focused on school responsibilities before and/or after they're away for a competition," he says. "Travel to other states, and if successful at national contests as the Rockingham team has been, to other countries, also provides life experiences that can enrich and broaden their viewpoints."