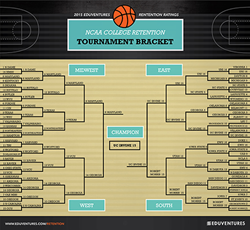 According to Max Woolf, Senior Analyst at Eduventures, 'During college championship season, Eduventures routinely examines the retention rates for colleges with elite sports programs.'
Boston, Massachusetts (PRWEB) March 30, 2015
Eduventures, Inc., the leading research and advisory firm that is focused exclusively on analyzing the forces that are transforming higher education, today revealed the results of a NCAA Retention Ratings tournament bracket. College student retention rates – the percentage of full-time, first-year students who return or don't return the following year – can be a red-flag on many levels. Retention rates give prospective students insights on the colleges they are considering as excellence in faculty, services, staff, and programs can all lead to higher retention rates. Eduventures' retention rating scale is based on an analysis of more than 1,100 colleges and universites within Eduventures' retention model. This model predicts a first-year, full-time retention rating based on factors that have been shown to have a primary influence on retention: academics, affordability, and the social environment, which are also key factors that prospective students and parents consider when choosing a college.
While elite college basketball teams will head to Indianapolis to compete for the NCAA National Championship, off of the court, the ongoing battle to improve retention rates for high-risk and first-generation college students continues amidst an ever-challenging environment facing higher education leaders.
As part of Eduventures' ongoing retention ratings research, the 64 teams invited to the NCAA tournament were re-ranked in their respective regions based on their predicted full-time retention rating. Then, to determine a National Champion for the NCAA Retention Ratings tournament bracket, each of the teams competed against one another to determine winners and losers. Winners were determined based on a retention performance score, which is the difference between their predicted retention rating and actual first-year, full-time retention. With an unbeatable retention score of 11.2%, the University of California, Irvine was the clear winner beating out the University of Maryland by 2.3 % points.
See the attached graphic for the Eduventures Men's 2015 College Retention Tournament Bracket
According to Max Woolf, Senior Analyst at Eduventures, "During college championship season, Eduventures routinely examines the retention rates for colleges with elite sports programs. As you can see by our 2015 results, only two teams, the University of Utah and North Carolina State University, made it to the Sweet 16 in our tournament and the NCAA Tournament, demonstrating just how difficult it is to have successful performance on and off the court."
Full rankings from the 2015 Report can be found at http://www.eduventures.com/retention/
About Eduventures
Eduventures is the leading research and advisory firm that is focused exclusively on analyzing the forces that are transforming higher education. Building on twenty years of success in working with education leaders, Eduventures provides forward-looking and actionable research based on proprietary market data, and advisory services that support both strategic and operational decision-making. Our recommendations and personalized support enable clients to understand the top traits of leaders in critical disciplines and to evaluate the opportunities presented by new technologies. For more information about Eduventure's research, practice areas and team, visit us at http://www.eduventures.com.
Members of the media who wish to speak to the author of this research can contact Ellen Slaby, Vice President of Marketing at eslaby(at)eduventures(dot)com.