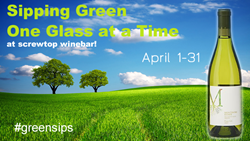 'Converting our list to organic, bio-dynamic and sustainable wines has been an invigorating challenge; but it's worth it to me to be able to showcase exceptional Green Wines currently available in our market today.' - Wendy Buckley
Washington, DC (PRWEB) March 31, 2015
Biodynamic, organic, and sustainable wines are better for the planet but how do they taste? Customers visiting screwtop wine bar in Arlington, VA, will find out during April when screwtop turns its entire wine list green.
"When it comes to eating, most of us want to fuel our bodies with healthy, nutritious, clean food. But what about the wine we are pairing with our meals? Do we really know what happens between the vine and the glass?," says Wendy Buckley, Owner and Chief Executive Wino at screwtop wine bar. "With our carefully curated green April wine list, you'll find organic, biodynamic, and sustainably farmed wines for all palates and price points."
There will be 40+ eco-friendly wines by the glass, green wine flights, and the bar's popular Wine Club will feature green wines as well. For those who want to delve deeper into the subject, screwtop winebar is hosting a green wine class on April 18th, where attendees can learn the differences between organic, biodynamic, and sustainable winemaking and winegrowing. The cost is $49.99 per person, and includes 6 wines and organic cheeses as well.
"We already have several organic and biodynamic wines on the menu but I wanted to go all out in honor of Earth Day. This seemed like the perfect opportunity to showcase a wide range of biodynamic, organic, and sustainable wines from all over the world, have a bit of fun, and do something good for the planet all at once."
On Earth Day, Wednesday April 22nd, screwtop will give away a reusable green wine tote with any purchase from the retail wine shop or wine bar. In addition, customers also receive 10% off the retail purchase of any eco-friendly wine and $10 off of all bar bottles consumed on-premise.
ABOUT BIODYNAMIC, ORGANIC, AND SUSTAINABLE WINES
For the uninitiated, biodynamic wines are wines made using the principles of biodynamicagriculture. For a vineyard to be considered biodynamic, the wine-grower must use the nine biodynamic preparations made from cow manure, quartz (silica) and seven medicinal plants.
Organic wine is made from grapes grown in accordance with principles of organic farming, which typically means no artificial chemical fertilizers, pesticides, fungicides and herbicides.
Sustainable wines generally go one step beyond organic winemaking to apply sustainable farming practices such as the use of composting and the cultivation of plants that attract insects that are beneficial to the health of the vines.
ABOUT SCREWTOP WINE BAR
Located in the heart of Clarendon, screwtop wine bar (1025 N. Fillmore Street, Arlington, VA) was founded by former AOL executive and certified wine sommelier Wendy Buckley in 2009. A popular neighborhood gem, screwtop wine bar attracts a loyal clientele of regulars and newcomers alike who return again and again to mingle, dine, and sip the night away. The boutique wine bar serves hearty casual fare including generous sandwiches, homemade soups, bountiful salads, cheese and charcuterie plates, and decadent desserts. Known for its playful wine list and thoughtful selection of wines by the sip, glass, bottle, or flight, screwtop wine bar was voted Best Girls Night Out by Arlington Magazine, and one of the Best Wine Bars in D.C. by Forbes Travel. Inside the retail shop, you'll find a well-stocked wine and cheese shop, small batch beers, specialty and local cheeses, cheese accessories and accompaniments, and more. For more information, visit http://screwtopwinebar.com