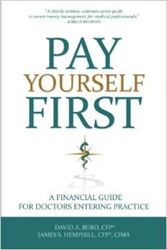 Why don't all doctors get rich?
Radnor, PA (PRWEB) April 14, 2015
For 25 years, TGS Financial Advisors has helped hundreds of families build wealth and reach financial goals. As an extension of its specialty in serving physicians, the firm now offers TriageMD, a comprehensive financial planning program that addresses the unique circumstances of new physicians.
Why don't all doctors get rich? It's a question that can sometimes trigger faux pity-parties, but in a world where many of us experience the crush of student loan debt, medical students carry some of the heaviest burdens. According to the Association of American Medical Colleges, the median indebtedness for medical school graduates in 2014 was $180,000.
It also takes a long time to become a doctor. Factor in her lost time-value of money—the fact that she begins accumulating wealth 10 or 15 years later than many of her professional peers—and the typical new physician's negative net worth takes on new significance.
Today's doctors are also dealing with new challenges in the economic management of their practices, including increases in operating costs, regulatory burdens, and changing insurance structures. A physician was recently quoted in Medical Economics magazine ("Top 15 challenges facing physicians in 2015") as saying, "The margin is so much thinner now. You do have to micromanage the money. No one taught us to do that."
TriageMD (http://triage-md.com) is a three-year financial planning program designed to guide physicians through their busy first years of practice, help them prioritize financial decisions, and make the best of the salary leap they experience in their transition from residency to practice. Its goal is to optimize a physician's lifetime financial trajectory.
Pay Yourself First: A Financial Guide for Doctors Entering Practice summarizes many of the underlying concepts of TriageMD. This concise book describes "The Inflection Point," the early years of practice when it is critical to balance the desire to upgrade one's lifestyle with the need to save more. The TriageMD program is designed to help new physicians find that balance and to give them a disciplined, right-out-of-the gate start to building wealth. Pay Yourself First co-authors James Hemphill and David Burd advise that it is the choices made and habits established early on that will largely determine the arc of a physician's financial future.
For more information about TriageMD or its companion book, Pay Yourself First, contact Joan Hill at 610-892-9900 or visit http://triage-md.com.