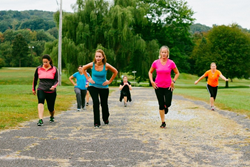 Dates for 5-week Session of Cardio Blast announced.
Kimberton, PA (PRWEB) March 27, 2015
Fitbody Personal Training offers outdoor training classes, equestrian boot camp classes, Pilates, and the newly added Cardio Blast Class. Carolyn's classes are a fun and exciting way to stay fit and healthy. The classes, which are structured as fun and friendly, are held in Phoenixville, PA.
Requiring no yearly commitment, the classes will run on a 6-week schedule, although participants can sign up anytime. Cardio Blast is a fitness class for the heart. It is quick, fun and will help keep the calories burning all day. Join the class on Tuesdays at 5:30 AM from March 31st to May 5, 2015. Cardio Blast will take place at the Civic Center located on 123 Main Street Phoenixville, PA 19460.
Wake up with Cardio Blast. FitBody Personal Training, LLC knows 5:30 AM may be early for some, but this short 45 minute class is quick and convenient for those who want to exercise before work. Burn calories with fun Tabata's and Quick Blasts of Cardio – also known as High Intensity Interval Training (HIIT). This class will kick start everyone's morning. Sign up today at http://www.fitbodyforeverybody.com and don't forget to set the alarm on Tuesdays. All levels are welcome.
FitBody Personal Training LLC was started by Carolyn Grashof who has been a group fitness instructor since 1997 and has been practicing personal training since 2002. Carolyn is a highly energetic person and motivates people to get in shape. She specializes in Pilates, cardio kickboxing, spinning, athletic step, pool fitness, interval training, and boot camp classes to name a few. Her expertise also includes posture, strength, cardio conditioning, and flexibility programs to suit her clients' bodies and goals.
For more information about FitBody Personal Training LLC or Carolyn, visit http://www.fitbodyforeverybody.com or email carolyn(at)fitbodyforeverybody(dot)com